As ever, the gigs I've caught this year have been a mixed bag of heart stopping excitement, ear clattering noise, hushed passages of startling beauty, and a fair dash of please, Christ almighty, don't give up your dayjob (please). There's been some good news- the lifting of live music license requirements for venues under 200 was a sensible move that's been a long time coming, and should make it a lot easier for grass roots promoters to keep the life blood pumping into the UK scene. On the other hand, the Metropolitan police have continued to use Form 696 to harass clubs putting on events that could be described as 'urban'. With the British urban pop scene as strong as it's ever been, this seems particularly backward, and hopefully a trend that'll fade into history.
Anyway, here's the ten shows I enjoyed most this year- there may have been better out there, but these were the moments where I, personally, got that incandescent, hairs-on-the-back-of-the-neck, silver racing down your spine thrill of being utterly caught in the moment.
Drop Out Venus @ Bloomsbury Bowling Lanes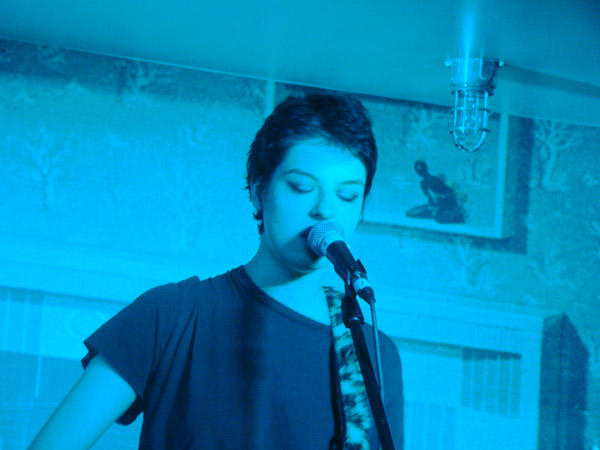 OK, so we at SupaJam put this gig on, but this doesn't mean it wasn't great..! This was the first time I'd seen Drop Out Venus play, and watching lead singer Iva Moskovich recite poetry acapella without losing the crowd for a moment confirmed the arrival of a star.
OGz @ Eski Dance
Wiley's Eski Dance raves were huge celebrations of grime, with a cast of pretty much every decent MC in the country. After being gutted at missing the first event, I would have gnawed off my arm to get to the second one, taking place in May at the Greenwich O2. As it was the night didn't disappoint, with countless big performances. The crew who took it for me however were upstarts OGz, the South London crew featuring Kozzie and Blacks. They tore through tracks with the kind of ferocious energy I associate with great punk, and the crowd were probably the craziest, most enthusiastic, and knowledgable I saw all year, at times going bananas for just the first word of a well loved rhyme. Frantic.
Stealing Sheep @ Servant Jazz Quarters
Servant Jazz Quarters established itself as East London's most charming small venue in 2012, a back street hide away with great cocktails and intimate sound. It was the perfect place to catch the unique psychedelic melodies of Stealing Sheep, and watching them range from post punk basslines to forest folk harmonies to an exclusive and appreciative audience of less than 100 was something quite special.
Martin Creed @ Camden Crawl
After a fairly underwhelming Camden Crawl, Turner Prize winner turned ramshackle garage rocker Martin Creed was a massive, welcome surprise. Anyone who can get a venue pogoing with a 2 minute song with the sole lyrics 'fuck you' is alright in my book. Looks dead set to go lurching off into the distance with Billy Childish's wild man of art crown.
Willis Earl Beal @ The Victoria
Beal didn't quite live up to his initial hype, with an awkward album that pushed in a number of different directions. Live, however, he was amazing, channeling the dark invention of Tom Waits through a voice remarkable with power. It's been a long time since I've seen such a raw soul talent striving to drag the form into strange and fascinating places, and he held the audience spellbound for a wonderful hour.
Cerebal Ballzy & Zulu @ Birthdays
Nothing beats a filthy hardcore mosh for mental release, and both Zulu and CB provided the thrashing chaos neccessary to work out any amount of frustrations in the pit. It all proved too much for the one kid who was carried out concussed within 3 minutes of Ballzy starting but that just made it more hardcore for the rest of us. Sad, but true.
Toy @ The Shacklewell
This was the gig were Toy staked their claim as one of the hottest new guitar bands the UK has got. Playing to a Shacklewell Arms rammed with go-on-impress-me scenesters, the band stepped up to deliver a set of swirling, heady melodies teamed with magical, addictive hooks. And they looked the bollocks while they did it. Job done.
George Clinton @ Hop Farm
Now James Brown is dead, there can be no dispute: George Clinton is the funkiest man alive. He stole Hop Farm for me with a set that delivered nuthin' but hits - Atomic Dog, We Got the Funk, they were played with a joy that suggested the band had written them moments before taking the stage. Festival time constraints meant that there were no flabby assed half hour jams, so whilst the songs sprawled, they never got self indulgent. A legend in action.
Crystal Castles @ Brixton Academy
Intense and uncomfortable, this is the first (and hopefully last) show I've been to that finished with the singer bawling. A band at the top playing with every ounce of their spirit. Draining and exhilarating. I capture the night better in the full review here.
Fat White Family @ Tamesis Dock
I could have put any number of Fat Whites gigs on this list- every time I saw them they blew me away. They are, quite simply, the best live act I've seen for a decade. I've picked the Jubilee Boat Party simply because we put it on, and until Fat Whites played I was in a total organisational stress. 30 minutes of gritty garage rock, gap toothed grins, country drawling, vicious lyrics, nudity, and a Union flag clenched in lead singer Lias's arse cheeks soon lightened me up. The band are becoming a cult, inspiring fanatical dedication in those that love them, and quivering horror in the fools that don't. They never once inspire anything other than an extreme response, and I truly hope that next year they get the recognition they deserve.