For Emma, Forever Ago is the brainchild of singer-songwriter Justin Vernon. The entire album was written and recorded over the course of a solitary three month stint in a Wisconsin log cabin following the break up of his band, the separation from his girlfriend and a prolonged case of glandular fever. For Emma, Forever Ago was independently released in 2007 in a run of 500 copies but subsequently received record label endorsement through Jagjaguwar and 4AD in 2008.
---
Bon Iver - For Emma, Forever Ago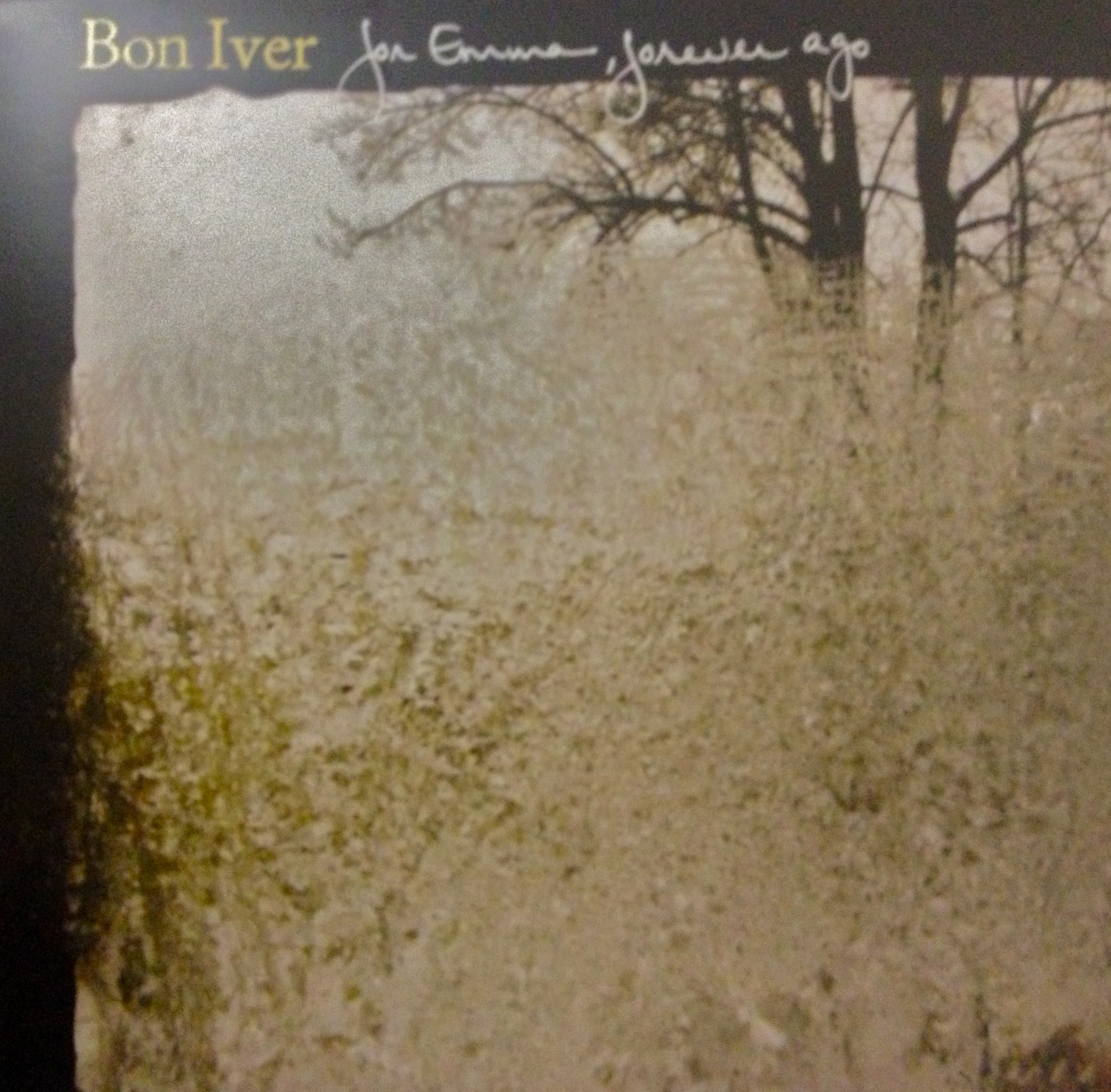 You're looking upon the cover of Bon Iver's For Emma, Forever Ago and you're looking out the window of an isolated cabin. A glaze of frost has settled upon the pane of glass and the silhouette of a leafless tree can be seen atop the crystalline cold.
This is the power of perspective taking hold. And it is a force that is evident throughout this record, from the very first scratches of Vernon's sobbing guitar to the final announcement of 'Your love will be, safe with me.'
This record is, from start to finish, imbued with an overwhelming sense of atmosphere - an atmosphere that implores you to join Vernon in his solitary Wisconsin hideaway. As you listen, allow yourself to tap in to the reservoir of unabridged emotion that is immortalized here. Take comfort in the heart-on-sleeve poetry and the visceral honesty Vernon pours into every song, for this is one of, if not the most, unashamedly forthright records in my collection.
Through a chorus that layers with each rendition, opening track Flume provides a perfect introduction to the expansive glacial harmonies with which this album is laced. The words here are enigmatic and wrought with mystique, Flume's delicate subtlety teases you into Bon Iver's sound and presents a vision of what's to be anticipated. A vision reinforced by second track Lump Sum, whose fleeting metaphors hint at the breadth of Vernon's dismay. Lyrically this song is intense and can be interpreted in any number of ways, yet the melodies that ground its whimsicality allude to the sorrow here expressed. A sorrow that briefly yields to hope in the song's final lines:
'Balance we won't know,
We will see when it gets warm.'
- Lump Sum
The Wolves is the final song on Side A and the cascades of frosted harmonies that gild its weary declarations do nothing short of break my heart. Accusations of blame and a resignation to 'what might have been lost,' crescendo in this song's final moments through the upheaval of furniture and the crash of cymbal. This is a dark corner of the record, and if For Emma was a journey through Vernon's 5 stages of recovery, then for me at least, The Wolves highlights the bitter end of denial.
'Some day my pain will mark you.'
- The Wolves (Act 1 & 2)
If Side A represents the fear that can come through loss then Side B represents the hope that can emerge through acceptance and as you flip the album you are presented with a much more optimistic impression of Vernon's toil. Side A can be seen as a reflection of the ominous onset of Winter and Side B can be seen as the hopeful glimmer of Spring. The previous sides shadow of melancholy still lingers throughout, yet the melodies and lyrics hint at a sense of understanding. This glint of acceptance emerges halfway through the first track of Side B with a subtle shift from the present tense to the past tense - hear Vernon replace 'I am blindsided' to 'I was blindsided' in the songs final moments. From here on in the enigmatic and distain bleached lyrics of Side A make way for a much more matter-of-fact and accepting tone.
'Go find another lover,
To bring a - to string along,
For all your lies,
You're still very loveable.'
- For Emma
For Emma, Forever Ago's final song has always been my personal favorite. Re:Stacks presents a sullen retrospective of the album from start to finish through an array of poker-related metaphors and recounts of loss. Vernon expresses his coming-to-terms with events but also shows how his recovery wasn't quite what he had anticipated. Moving on from the past's misgivings is not a case of forgetting, but of appreciating the influence it will have on your future.
'This is not the sound of a new man,
Or crispy realization,
It's the sound of the unlocking and the lift away,
Your love will be,
Safe with me.'
- Re:Stacks
By that final lyric, Justin Vernon has explored every avenue of his emotional turmoil and the album he created along the way is as much a memoir of his recovery as it is an enlightening gift to the listener.
For Emma, Forever Ago is an album I can return to time and time again. There will always be new layers of emotional depth to unearth and there will always be a deeper understanding of forgiveness to attain. This is not just a break up album; this is an impassioned work of catharsis disguised as a masterpiece.