Hejira is an album born from the experience of travelling. A single 3000-mile car journey from Maine to Los Angeles provided the spirit that Joni Mitchell, in solitary contemplation, here channels. An audible embodiment of movement and transience, Hejira's songs revolve between thought patterns that are both uplifting and unsettling. Joni's command of language is extraordinary, and in this 'train of thought' environment, the poetry of her soul is allowed to flourish.
---
Joni Mitchell - Hejira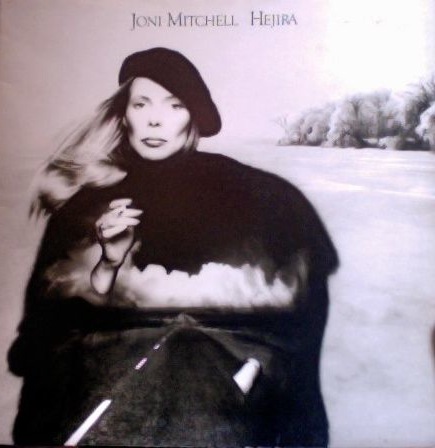 I am nothing if not a lover of poetry and, with that in mind, Hejira is to me what Amsterdam is to stoners. It's in the rich and recurring metaphors that revel in references of highways and revolving weather conditions, it's in the internal regression and ruthless self exploration, the honesty of which at points verges on brutality, and it's in the ever present underlying tones of darkness that hint at a suppressed glimmer of personal anxiety.
Lyrically Hejira is as much a visual delight for the mind's eye as the record sleeve is to the physical eye. It seems that the tedium of driving has decorated Joni's lyrics with a sheen of imagination unheard on previous albums. Listen to the vast sense of scale Joni delicately imbues into the first few of lines of the stunning Amelia.
'I was driving across the burning desert,
When I spotted six jet planes,
Leaving six white vapor trails across the bleak terrain,
It was the hexagram of the heavens,
It was the strings of my guitar,
Amelia, it was just a false alarm.'
- Amelia
Whilst there is an air of tension incepted by her choice of harmony, overall Hejira is a far less melancholic listen than her previous albums. This is less fragile than Blue and the bitterness of For The Roses has here subsided to reveal a simmering confidence and a cool sense of wonder. Joni is content, alone on the road and with a true sense of direction - both musically and geographically.
Joni presents perfectly formed stories over the space of single lines and, though sometimes these encounters are brief and fleeting, the overall direction of each track never suffers. The elevatory structures and the rolling glissandos of Jaco Pastorious' fretless bass push each track along on a highway of musical congruence. No matter how darting Joni's recitation of thought may become, it makes sense, because the overriding atmosphere generated by the music is one of freedom and forward movement.
'In our possessive coupling,
So much could not be expressed,
So now I am returning to myself,
These things that you and I suppressed.
I see something of myself in everyone,
Just at this moment of the world,
As snow gathers like bolts of lace,
Waltzing on a ballroom girl.'
- Hejira
…if I could say only one thing to convince you to listen to this album it would be THAT verse from title-track Hejira. I could go on the biggest rant as to all the reasons I love it but I would probably never stop. Not only that, but nothing I could say would surpass the elegance with which those words convey so much in so few lines.
Hejira is an album of infinite depth, the likes of which exceed the boundaries of this blog. Song For Sharon is frank, honest and heart wrenching. Coyote is a visceral excavation of circumstance and Black Crow is, if nothing else, an exercise into the extent in which metaphor can describe our deepest emotions. Explore Hejira. Get lost in it. Play it, and then play it again. Listen to the lyrics and appreciate the manner in which it was conceived. I assure you that if you approach this album with the right frame of mind you will relate to the contortions of her mind, the exacerbation of her imagination and the gymnastics of her ideas on a level that very few albums achieve. Hejira is concentrated. It was created over what can be considered a mere matter of moments, yet it conveys an understanding that is universal and eternal. Hejira is the tedium of travel and the anxiety of arrival. Hejira is both confident and conflicting. Hejira is as awesome as it is subtle and as reassuring as it is unnerving.
On a final note…before spinning Hejira I always spend a few moments in quiet appreciation of the cover that encases it. Not only does Joni look dangerously close to flawless but, as with the music inside, there is a sense of mystery imbued by the assortment of elements that constitute its'­ dark grey form. The placement of her hands here, I believe, hold a message as significant as her choice of album title; one hand grounds itself in the road whilst the other reaches upwards, out through the clouds. Is this in itself a metaphor for the ethereal sense of enlightenment Joni attained by way of the road?