Well, that was fun! So fun that I thought I should write about it. I won't list through every single facet of the weekend, instead I'll focus on a few highlights. If yours aren't here then do tell me what I've missed and why it meant so much to you.
I've decided to split this into two lists. Mainly because I feel silly comparing a pizza to international musical superstars, yet both meant a great deal to me. So one list will just be for individual acts, another will be for "features" of Hop Farm 2012 that I enjoyed. General things about the festival which pleased me in ways that you can only dream about.
Top 5 Artists of Hop Farm 2012, click the names for our reviews:
5 - Bruce Forsyth
This was an odd one when it was announced. Why have they booked an 84 year-old TV presenter? It seemed ridiculous, but that's precisely why it was essential viewing. He wasn't the most musically proficient act of the weekend, but he was entertaining and everybody was talking about him.
4 - Lianne La Havas
That voice, the clever songs and the effortless mix of modern and traditional sounds meant that Lianne's set was an absolute pleasure to witness.
Some people don't get new music. They smirk about "some random band" that they see in the pub, they talk the whole way through support bands. The idea of enjoying something that isn't on a commercial playlist or an advert is anathema to them. They are the heathens that we need to convert. Bands like Yngve & The Innocent are the Bibles that we need to thump them round the head with.
2 - Lights
You have to be a right grump to not enjoy Lights. Infectiously one with her music, mashing a mix of genres together to create a euphoric electronic experience. Repeatedly telling us how much she enjoyed the UK, we rather enjoyed her too.
1 - Patti Smith
Before the festival I'd heard of Patti Smith. I knew a couple of songs although I wouldn't count myself as a fan. But the snarling yet charming Smith was a powerful force, totally insane yet delivered the standout performance of the weekend.
She could also be found strolling around the festival checking out the bands and stalls. This is a woman who has performed to thousands and has written songs with Springsteen, she has every right to be lording it up backstage and scaring lowly runners! Instead, while her performance may be a little too intense for some of the more reserved members of the crowd, she embodies the intended ethos of the festival.
Top 5 Features Of Hop Farm 2012:
5 - The Layout
ZZZZZZZZZZZZZZZZZZZZZZZZZZZZZZZZZ. I know, but when you've been to a few festivals you start to notice things like this. The four daytime stages were arranged roughly in a large diamond, with the smallest and largest stages at opposite points. They had a clump of trees and stalls in the middle so that you weren't distracted by the opposite stage, with the second/third stages at the sides.
You could easily walk in a big circle and catch generous chunks of four different acts on different stages in under an hour. It's not the most exciting feature, but when you go to festivals that have bland stages perched next to each other or an acoustic tent drowned out by a nearby dance arena then it really makes a difference.
The number of stages was also just right too. A lot of festival organisers seem to think that more stages = better festival. They're wrong. Nobody benefits from overbooking a festival. Many bands end up playing to big groups of nobody, the audience don't care about giant chunks of the line-up and genuinely good small bands get lost in the sea of pub duffers surrounding them. Hop Farm had 4, which gave choice but also meant that there was always a crowd for each set. Throughout the weekend I didn't see a single band playing on a stage with an embarassingly small audience.
4 - Well Kneaded Foods Pizza Wagon
Man likes food. How about that.
Festival food is not what it once was. In years gone by your choices were burgers, chips and maybe some questionable noodles. But then the foodies got involved, which had its plus sides. However, when a greying Budget Burger costed £5 then organic, grass-fed, locally-sourced, ethically-reared, nutritionally beneficial Venison Búrgoir had to be £8. Then the foodies seemed to take over completely and people who had no moral qualms about selling a small bowl of "Genuine Texas Curly Fries" for £5 ran riot. Go to any festival now and it's near impossible to find a relatively cheap low-quality grease cart.
So I was shocked to find this pizza wagon selling high-quality stone-baked pizzas the length of my forearm for only £6. Someone clearly hadn't educated them on festival food economics. There was a stall about 100 metres from them selling slightly larger pizzas for £11. But that counts for nothing if the quality isn't there, let's oggle at this beauty. It makes the Mona Lisa look like a barroom strumpet that's 15 years past her prime.
They should really be paying me for this.
3 - The Power's Bar Stage
'New music' stages at festivals are hit and miss affairs. If it's some grotty, unloved gazebo in a forgotten corner then they can be quite depressing. Often they are put together by people with little care about the music, as long as whoever is on stage doesn't explode during their 25 minute set. The line-ups on these types of stages can sometimes be filled with bands who are only on because they know the organiser, bands who have paid to play or ones that have agreed to sell a bucketload of tickets in order to play. Such set-ups rarely produce anything memorable, deservedly so.
The Power's Bar stage kept a pretty respectable quality level throughout. The stage was basically the side of a trailer folded out. It wasn't spacious, but you could fit kit on there and some musicians if you were lucky. It's not Wembley, but it's enough to put on a perfectly decent rock and roll band. The fact that it's run by a live music venue undoubtedly helped. Funnily enough, if you spend all your time putting on live bands then you tend to find some good ones!
2 - The Supajam Artists
A bit of a back-slap here, but whatever. All the artists we put on were amazing, if you disagree then you either weren't there or you ate a wheelbarrow full of stupid before getting out of your ditch this morning. It's hard for upcoming artists to play to decent audiences, especially outside of their hometown. So well done to us for arranging them to play to new crowds well into the mid-hundreds. Well done to the bands for knocking the ball out of the park and making us good by association. Lastly, well done to all the Supajammers who turned up to support them!
1 - The Buskers
I must've dropped a metric ton of change into various guitar cases, upturned hats and piggy banks this weekend. Every penny was deserved. Hop Farm had hand-picked their buskers and given them well placed designated busking spots to perform on. There were no bland student-types churning out sub-standard Beatles covers, we saw an eclectic range of unique talent that was well-worth standing around for. We were so impressed/intrigued by some of the buskers that we decided to cover them. Declan Zapala, Lewis Floyd Henry, The Goodtime Family and the enigma that is Jim were the ones that were lucky enough to catch our attention during idle moments, but I honestly can't remember seeing a bad one. Hop Farm 1 London Underground 0.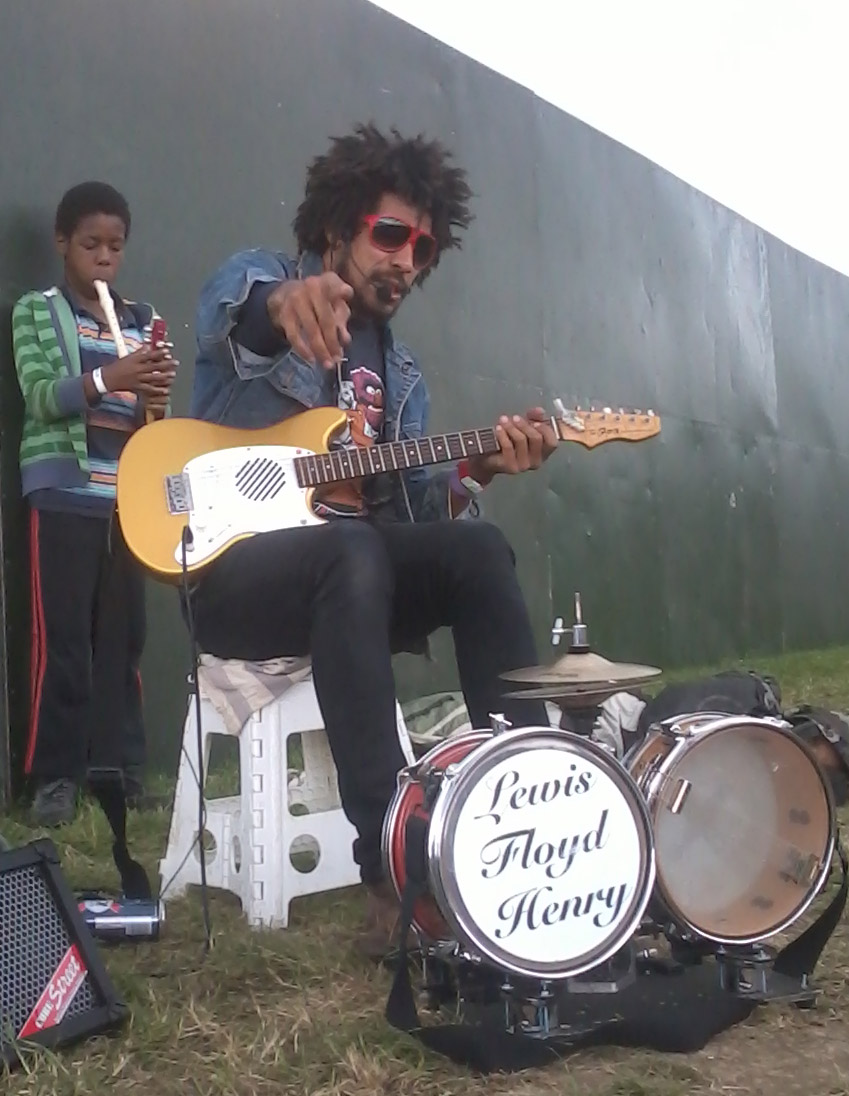 So, those were some of the things I picked up and enjoyed. Did I miss anything? I did. But did I miss your favourite act, feature or moment? Let me know what you liked so I that we can check it out the next time Hop Farm 2012 rolls around.
Andy is a Supajam writer who has been a small-fry at numerous Commerical, BBC and Student radio stations over the last 6 years. He is also a music promoter in the South-East of the UK. He has a website where he interviews musicians with only one question, and he is currently typing in third-person. You can tweet abuse at him if you fancy letting off some steam.