Following the sad news of Clive Burr's death earlier this week, I wanted to write some words to express exactly what his work meant to me and presumably a sizeable amount of other people too. Here are those words:
June 16th 2008 is a day I won't forget too soon.
I was coming to the end of my first year of University, where I'd pretty much decided that the Maths degree I'd started wasn't one I was going to finish. I was far more interested in messing about with radio, writing and going to gigs.
Following this avenue, I'd somehow swindled some tickets to the annual Metal Hammer Golden Gods Awards. They figured that if I enjoyed myself and then talked about it on-air then all three of my student radio show's listeners would immediately rush out and buy 50 copies of Metal Hammer.
I wasn't allowed into the VIP bar. I moaned about how "off-message" it was for a Metal event to have a private VIP bar considering a lot of people got into Metal following some form of rejection to mainstream society. But I still hung around the entrance and managed a whistlestop handshake tour with some of my idols as they arrived.
I met the woman of my early teenage dreams, Tarja from Nightwish, and invited her over mine for toast right in front of her nonplussed husband. I stared for ages at the bald patch of Napalm Death's bassist and decided not to strike up a conversation with him because I could think about nothing other than his head, despite being a fan for about 8 years. I had a brief conversation with Kerry King when everyone else was too scared to approach him, he was a lot shorter than I'd imagined. There were others too, but I've name-dropped enough.
I also met this gentleman.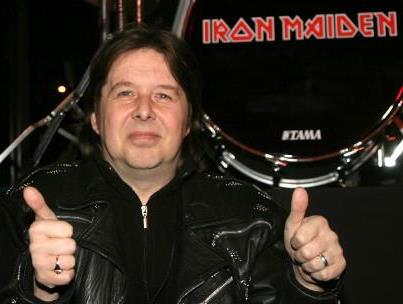 He had a different air from the others.
Clive Burr had no agenda. He didn't have an album to promote, he wasn't trying to uphold some tough Metal image, and he had no interest in banal networking or back rubbing. He was there for a good time and was exceptionally friendly to anyone who took the time to notice him and say hi.
By this time his Multiple Sclerosis had left him wheelchair bound and his former bandmates had organised numerous fundraising gigs to help him and others in his condition. But he wasn't always like this. Once upon a time he made magic happen.
Due to Clive's drumming, my world changed one morning when I was 14 and this came on Kerrang TV:
Now I'm aware that this video doesn't feature Burr, he had been replaced by Nicko McBrain in 1982. But the footage of Nicko playing the drum-fills that Burr had originally played in the chorus made me excited for some reason. The way it rumbles across the kit like a Cowboy's horse over the great plains. Seeing those drums lead 250,000 screaming Brazilians into battle with the night made me 'get' live music. I suddenly saw what it was all about.
I've written before about how Metal is often totally ignored by the wider public despite its enduring popularity, yet it's worth noting that for the opening of this song Burr created one of the most instantly recognisable drum beats in music history. It highlights the "incredible feel" that Bruce Dickinson spoke about when he referred to him as "the best drummer the band ever had."
Diving further into the Maiden catalogue as my teenage years progressed I settled upon their second album, Killers, as my favourite. They were a Metal band teeming with a thoroughly Punk attitude. Threatening, dangerous and with a lot of the excess trimmed off. The opening trio of of Ides Of March, Wrathchild and Murders In The Rue Morgue was a steel toe-cap to the groin of anyone who thought that Maiden would suffer from second-album syndrome or attempt a more commercial sound.
But the real linchpin of the record was its title track. Brooding, angry, perfect for an edgy young stud who had just got his driving license and was weighing up the pros & cons of buying a leather jacket. The opening is given a menacing ramp as the rhythm section holds a bold yet restrained build before the balls-to-the-wall torrential frenzy is released and retains its intensity throughout the song. Steve Harris' trademark galloping bass sets the pulse racing but it's Burr's playing that hits you throughout and lends itself to numerous fist-pumps.
It gave this young man a beat to walk to. It gave rhythm to a snarl that soundtracked some wild lost years. It finished with a rolling smack that left me feeling alive. Some kids find drugs, some find booze, the pulse of Clive's playing made me find Metal. It helped cement a feeling in myself, and countless others, that when wearing an Iron Maiden shirt you could stand on your own but still be backed by an army of millions. You were never defeated, you were never afraid, you were never alone.
Goodbye Clive, thank you for everything.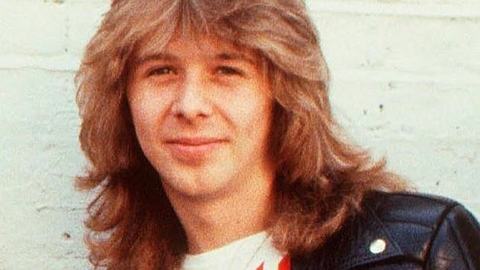 Clive Burr: 8 March 1957 – 12 March 2013
Andy is a Supajam writer who has been a small-fry at numerous Commerical, BBC and Student radio stations over the last 6 years. He is also a music promoter in the South-East of the UK. He has a website where he interviews musicians with only one question, and he is currently typing in third-person. You can tweet abuse at him if you fancy letting off some steam.