Don't meet your heroes applies loosely, part of the time, the other part of the time it speaks home truths. George Carlin's famous heckler "mop" line got me thinking - would you like to put on your smoking jacket, dicky-bow and cummerbund to get a microphone stuffed in your piehole (NO sadomasochists)? -- didn't think so. However, crowds are often uncomfortable places, and unfortunately, it always seems to be those of bands I love (looking at you, Radiohead-fans, you touchy-feely, bad-breathed bunch), so it's no wonder that some artists get a little fed up.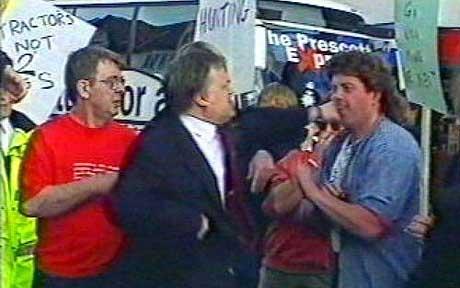 Rihanna's recent swing of an SM58 into a clingy brummie's gut probably inspired this brief list. Enjoy.
5. Rihanna vs Brummie - insignificant and strange, but deserves a mention because it inspired the article.
4. Josh Homme reacts to having something launched at him on stage. Ok, this isn't quite as severe as Frederick "Toots" Hibbert's $21 million dollar law suit, but having Josh Homme saying "he'll buttfuck you in front of all your friends" is intimidating, having him say "go back to your mom's house you twelve year old dickless turd" is hilarious.
3. Greenday and the quest of Woodstock '94 - who said Billy ain't got bottle?
2. Dave Grohl scopes out a jerk in a striped shirt... I hope this nerf herder has a polaroid behind every ticket counter in the country.
1. "I don't believe you, you're a liar" Dylan - one of the most iconic moments in music history.
Dylan had recently begun playing with his band, which was met with dismay by the majority of his 'folk-type' fans. When he played Manchester Free Trade Hall in 1966 as part of his Highway 61 Revisited tour, he was called 'Judas' - the rest is there for'ya.
Watch the fly-on-the-wall Pennebaker documentary, Don't Look Back if you're really into it - it's superb.