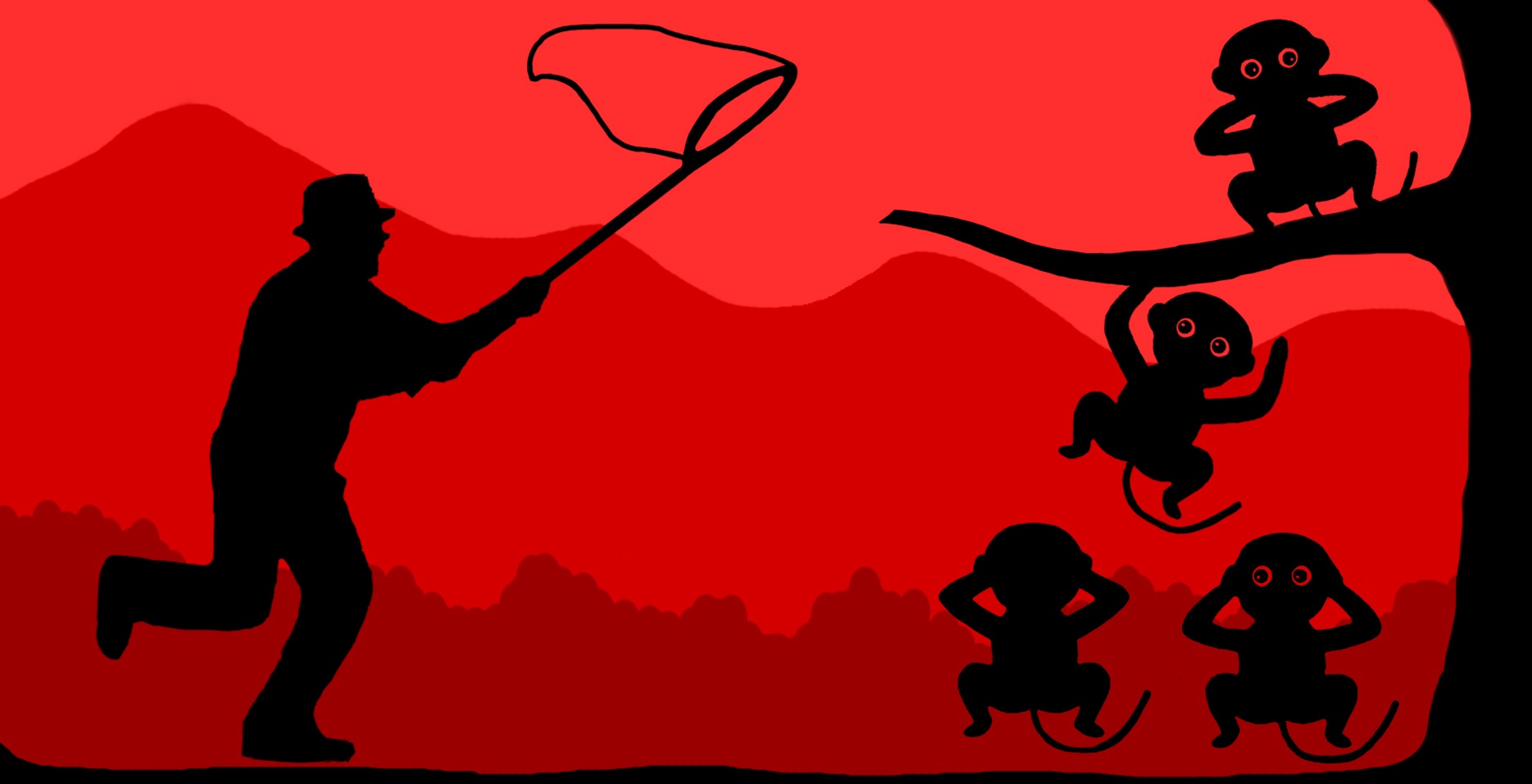 This week Circle Recording Studios' Birmingham based head-honcho considers gig acquisition and concludes that 'slowly slowly catchy monkey' is a well worn adage for a reason...
So I'm told that I had promised you some thoughts on getting yourself booked for some decent gigs and have, so far, failed to deliver. In short then, it seems to me there are probably only seven standard routes to getting gigs: via a promoter, or a booking agent, by working your network, by approaching venue owners or festival organisers directly, by attending open mic nights, by paying onto a tour or by running the gig yourself. Given that in my last blog I suggested that you need to be doing as many gigs as you possibly can, it follows that you probably need to be pursuing all of these routes. Let's take a look at each of them in turn. And then let's look at a bit of an alternative idea.
As a starter for ten then, there are obviously the tried and tested routes: the promoters and booking agents of this world (ever wonder what the difference is between these two or the best way of approaching each? Then remind me to cover that in a future blog!)
What do I mean by working your network? Well, chances are you'll have contacts outside of your own band who are involved in gigs. Whether they are running them, playing them, or attending them. Go speak to them. Find out how you can get in on the act. Can you support your mates at a gig? Can they make introductions for you to their network? Are there notices on the board at your local rehearsal studio? By the same token, what venues are there in your local area? Can you go speak to the landlord, or chat up that cute barmaid to try and blag yourself a gig? Are there any festivals in your local area? If so an early approach can pay dividends.
Moving away from the obvious though, you'll recall that a couple of blogs ago I alluded to the fact that one way of playing gigs that you know will be well attended and well promoted is to get off your ass and book the gig yourself. But before you go off and do that, i want you to think about the why you would book your own gig. If you've been reading carefully, you know that just one gig, no matter how huge and awesome it is, won't do it for you by itself. To make it in this game generally you need a long series of events, which gain you exposure and which continually increase your fan-base. You need, in short, to create a buzz. So if booking one gig isn't going to change much, why bother?
Just as Rome wasn't built in a day Greenday weren't launched by any single event. Organising a gig yourself should be just one small piece of your overall strategy to increase your exposure and, thereby, your fan-base. And that means doing all of the above. and more. Because there's a whole bunch of stuff you should be doing as well as organising your own show: book your own gig, play an acoustic set in a coffee shop, support another local band, busk in the town centre, go to an open mic, do the same a little further afield. And once you've done all that... you book another gig. And so on. And then, once you have started to get a bit of a following beyond your friends and family and can pull a decent crowd to your own gigs, you need to think about how you can increase that fan-base further. Is there a promoter or band that pulls a good crowd in the next town? Can you persuade them to do a 'gig swap'? They send their popular band to your event and you turn out a good crowd for them in return for them doing the same for you in their home town. Sounds easy, right? But put yourself in their shoes for a minute. Why would they swap with you?
Ideally if you've worked your local audience enough the guys in the next town will have heard of you. Excellent. Or not. in which case another route might be to become known as a promoter in your own right. Note that doesn't mean you have to play every gig you book with your own band. Nothing will be surer to saturate the local market for your wares. But, as an example, doing a bit of promoting yourself can help you get to know the local market, to understand what works for venue owners and what the public like. And if you can work out a formula for making all of them happy you are well on your way to a successful career. If you're perceptive you'll also learn what bands have similarities to you and who can pull a crowd. And then, if you are machiavellian enough, you might make sure that your own band is, occasionally, on the same bill as that band. Because if you then engage with both them and their fan-base, as I mentioned above, you may just increase your own.
So once you've persuaded the band or promoter in the next town to do gig swaps with you, the key to making those swaps worthwhile will be to making sure the visiting band has a great time. Why? Well, partly because what goes around comes around but also because you want them to go away telling all the other bands and fans from their own town what a great show you put on! And your infamy increases. So more and bigger bands will want to gig swap with you. So you can increase your exposure. And if you sound great and make sure you engage with that new audience when you are away, then you'll increase your fan-base. The upward spiral continues. And of course, if you can manage a series of gig swaps successfully, you might even find that, ultimately, you have a successful tour on your hands... (Getting it yet?)
So where do you go from there? Well, none of this is likely to happen overnight but hopefully you'll find that you are expanding your fan base, engaging with audiences and are starting to look like real pros. It might take a while but you might also find that yourselves touring, maybe even just by doing gig swaps with popular local bands in towns and cities across the country. And by the time that happens, if you are any good, labels might well be starting to give you some attention. But how do you take it to the next level?
Well, in addition to doing all of the above don't forget that our very own Supajam regularly runs competitions to play at festivals. Keep an eye here for the latest opportunity: http://www.supajam.com/page/festival-slots.
So to summarise, gig acquisition (and therefore fan acquisition), like anything else that is worthwhile in this world, is going to take you some time and requires hard work. That might even mean promoting others as well as yourselves. In other words, it might even require a lot of hard work. Be prepared for the fact that no single event is likely to launch your career. And even with a label behind you, as we saw in last month's blog, you'll be expected to work hard to stay there. So you need to be social media kings as well as hard touring muso-gods. And all that takes even more time. Slowly slowly catchy monkey as they say.
But hang on. It looks like you are still sitting surfing the Internet...? What are you waiting for? You've got work to do!
Oh, and one final thought before I sign off this week (this is for my own market research, so shoot me). There's a growing movement to get unsigned bands to pay onto gigs with bigger touring bands. What do you think about this. Is it fair? Is it worthwhile? If you've been on a tour like this, what did it cost you? Answers in the usual place below please.
Trev, is a record producer and Chief Engineer at one of the UK's top studios, Circle Recording Studios in Birmingham. Check it out at www.circlestudios.co.uk. He has worked with clients from major and independent record labels across a range of genres from metal to hip hop. Follow @circlestudios on twitter if you like the kind of inane rambling you get to read here or check out his other blog on www.circlestudios.co.uk/blog. Alternatively, look up Circle Recording Studios Birmingham on Facebook. Oh, and thanks go out once more to Iain at www.individstudios.com for this week's illustration!