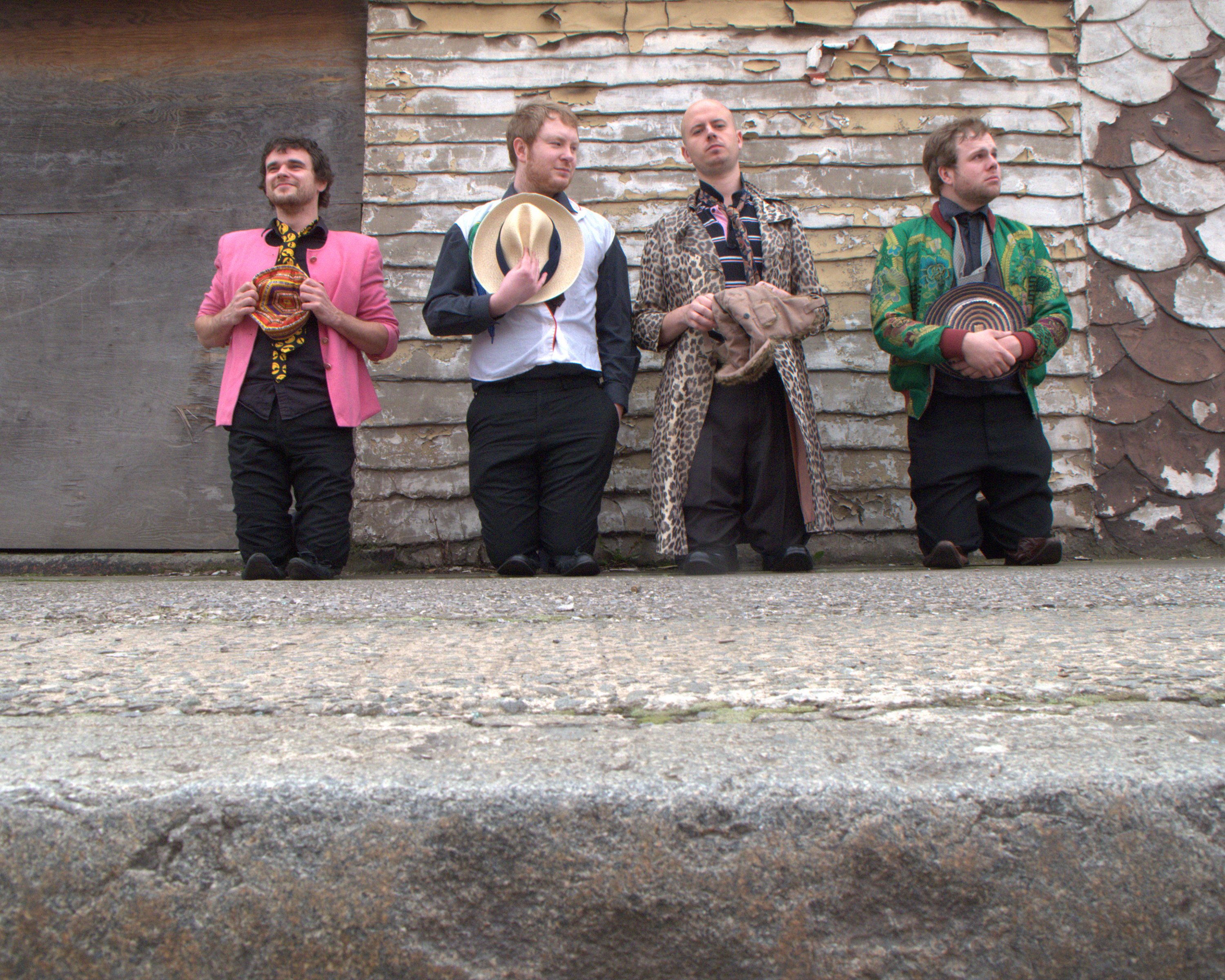 Liverpudlians Bemp Bjeng really aren't going to fit in your pigeonhole. You remember the moment when you first tried to descibe Django Django to someone? And once you'd muttered '..errr a bit like The Beta Band...' you ran out of words? Well Bemp Bjung are like that, except without so much of the Beta Band bit.
But we'll say this- they sound good. A combo of playful folk, rough round the edges ambience, and, um, tear out dubstep wobbles could well be a recipe for disaster, but as the aforementioned Django Django have proved, if you do it right, it sounds right.
Future single Sandpit is a case in point-- After the opening whispy folk guitar, and surreal lyrics ("Put your feet in the sandpit// Put your feet in the sandpit// Now// Like a cow// In the snow"), the sudden stinking Skrillex bass drop comes from literally nowhere, BUT IT WORKS. How? We just don't know. BUT WE WANTED TO, so we caught up with the band to find out
Who's in the band and who does what?

I'm Anthony Burke and I'm the main songwriter. I play acoustic guitar, main vocals and computerry stuff. Dave Akery is on bass/vocals, Martyn Harris on drums/vocals and Ste Parratt on keyboards and guitar.

Tell us about Bemp Bjeng How'dya meet and such? How did you get a name
like that?

I started making tunes in my bedroom a few years ago and last year I decided it'd be nice to start playing them live. Martyn and I had been jamming together since we were little kids and we'd always intended on being in a band together. Dave's been my mate for a while too and he came in and turned bits and pieces I'd done into full songs and generally gave me a kick up the arse. Ste's a known musician extraordinaire in Liverpool and has been the icing on the potato since he joined. We're also working with two amazingly talented producers called Dave Evans and Keith Thompson.

Bemp Bjeng is actually the sound a fruit womble makes as it's gives birth to it's own teeth. I think.

You've got a sound thats pretty unique, when, say, your Dad asks you what
sort of music you make, what do you tell him?

It's difficult to say because we don't have a particular style of music that we stick to. We're into everything so we want to make everything. If I had to tell my dad something I'd probably go with 'Wonk Pop'.

Jar of Glue (Demo) by Bemp Bjeng

'Put your feet in the sandpit/ put your feet in the sandpit// now// like a cow// in the snow' What in hell are you going on about? Are you just messing around with words or is there something we should know about cows, sandpits and snow?

I suppose the song is an abstract version of the metaphor for burying your head in the sand but with an alternate animal. The other polar end of the body is mentioned. This means the metaphor is
now subject to change; suggesting not to hide/run from/sleep through life. Or it could just be about a cow with it's feet in the sand/snow. Don't they have hooves anyway?

Have you got any plans for a release? Is there a band camp up somewhere?
Is there going to be?

We plan to release 'Sandpit' as a double A side single with an as yet undetermined track in the next couple of months. There is a band camp site in development and should be up ASAP. We are currently finishing our album and we aim to have that released by the autumn.

Can we see you play live? And how about on youtube?

We have been rehearsing like wild apes for the last few months and will be doing some gigs to coincide with the release of 'Sandpit'. We will be putting some videos on Youtube of us playing covers and having our tea.

Is there any musical style you wouldn't appropriate into your songs? At all?

I don't think you can write off any musical style, I'm sure they all have at least one good aspect. Having said that, I can't see us including any 14th century country-gabba just yet.

And finally for now, the obligatory pointless question:
You win the lottery tomorrow, but in an utterly improbable Brewsters Millions style twist you've got to blow the lot in a week. What gets bought first?

Hmm. I'd probably buy a massive BMX made out of cheese and ride it into the sun.
We thank you Bemp Bjeng. Why don't you people go and like them on their facebook so you can say you were there first...