Today we are one sleep from Christmas and we reach the end of our advent calendar.
Over the last month we've given you gig tickets, unreleased free music, vinyl discounts, and the opportunity to join a choir. We've still got free albums, free songs, exclusive downloads, amusing videos, beautiful music, a filthy Christmas song, and some festival tickets left to give away. But instead of adding to the pile of Christmas joy, we thought we'd look to the new year...
Instead of trying to becoming the next Mr. Olympia, taking up Yoga for two weeks, giving up chocolate on Tuesdays, or some other dunderheaded plan that you have no real intentions of keeping up, how about doing something you might enjoy?
Here at Supajam, we've thought up ten new years resolutions that you could make to become a better music fan. Feel free to add any suggestions in the comments below.
What do we mean by better? It sounds awfully holier-than-thou. Basically, they're things that will hopefully make you enjoy checking out music a bit more and at the same time benefit the acts you like. If there's other upsides that's a bonus, but our main aim when putting these together was to come up with some ideas that will generally have a positive effect on your experience as a music lover.
We know you're busy, we know that you may be unsure about diving into all sorts of murky new channels, so these are intended to be something that even the most casual of fans can try.
1. Visit a new venue once a month
Most people in the UK will be within reasonable distance of twelve places that have live music on at some point, especially when you include festivals and other one-off events.
2. Buy directly from the artist whenever possible
Without giving you a lesson in music distribution economics, if you want the artist to get more money without having to pay extra then this is usually the best method. There are fewer middlemen to pay! Most smaller artists will also be able to sign it for you if you buy it from their website or gig.
3. Don't be a snob
People love disliking things (as point 6 shows), especially popular things. Nothing pleases them more than seeing someone, or thing, doing well and expressing their dislike. In a way, that's fine to an extent. But multiple times we've seen people complain about popular acts like Ed Sheeran, The Vaccines, The 1975 or London Grammar, while simultaneously trumpeting similar sounding singer-songwriters, pop-rock groups or indie bands. Their pride won't let them like the better-known act, and they lose out. If these words are feeling prickly and you're getting defensive, maybe they apply to you? Lighten up and join the party.
4. Look up new music by old artists
We're always encouraging you to check out new music, every day we usually have 5-10 new acts covered in some way on the site. Telling you to check them out goes without saying. But what about older bands?
A select few have remained successful and are selling out stadiums to this day. Some acts died out after their time in the sun, and deserved to do so. Others soldiered on, and really shouldn't have. But there are some who are in the unique boat of no longer being spectacularly famous, but are still making music worth hearing. Unfortunately they are sometimes seen as 'over the hill' so most radio stations and a fickle public aren't always willing to give them a fair ear. A couple of days ago we bought you Mark Morriss' (from The Bluetones) new video, he's a great example.
Another is Wheatus, who are widely known for one hit and a cover, but since splitting with their major label and going independent they have actually put out some exceptionally high quality material. 'The London Sun', 'Lemonade', 'This Island', and others are incredibly developed tracks that have every right to be massive hits. Here's another favourite, resplendent with a piercing combination of luscious warmth and a tense frustration.
Of course, you don't have to go and check out Wheatus. Look up any artist in the 'where are they now?' category and you may be pleasantly surprised at what you find.
5. Listen to more lyrics
A lot of people don't. Sure, they know them if they hear the songs lots but many don't really think about them on a level any deeper than the titular refrain. Sometimes that doesn't matter, other times... it still doesn't matter in the grand scheme of things, but you might enjoy some songs more if you did.
6. Stop comparing the old music you love to the new music you hate
This has to end. There is nothing more boring than someone making a dull point about their favourite bands from the 70s playing their own instruments, while One Direction don't even write their own songs. Or some similar guff, we've heard it all before and it's sounding pretty stale. There's always an article or a meme going around that does it. This hunk of illogical, partly false crap has been all over Facebook lately, and we noticed this smug tripe when we wrote our piece on modern song lyrics to be proud of: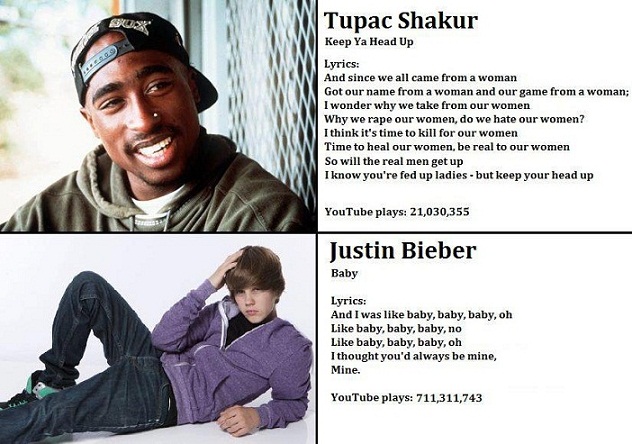 Who would've thought, a hand-picked verse from one of hip-hop's finest has a greater intellectual depth than the chorus of a teenage popstar. Big whoop! There is NOTHING connecting them, why bother making the link other than to gloat?
If you don't like Cowell/Bieber/1D, that's fine. Leave them alone, forget about them. Stop clicking on bitchy stories about them (we've seen the stats), stop blaming them for whatever problems you have with music today. Their detractors are just as important in keeping them in the news as their fans. This year, focus on finding stuff you like and ignore the bunk
7. Look up a support band for every gig you go to
You've already paid to see them, might as well get more bang for your buck and grab a couple of their songs. For most gigs the supports will be listed months in advance, so you've got plenty of time to do the smallest bit of research. Stick them on your playlist in the build up for the gig and you'll enjoy yourself twice/thrice/morerice as much.
8. Tell more artists that you enjoy their music
This can make a whole world of difference, especially with a smaller act. If you've enjoyed their set after a gig then go and let them know if you see them later. If you don't, there's always social media to tell them what you thought. They may not have been paid a lot, it's a daily struggle when you're trying break through, and a compliment from a stranger can perk someone up hugely. Even larger acts appreciate heartfelt tweets of support. Show love, the world can't have too much.
9. Start a blog and update it once a day/week/month
Because why not? It's fun to get your thoughts and opinions off your chest. Don't do it to get a million views (although it's nice if you do), do it because there is music out there that you love and you want the world to see it from every angle.
There's tons of sites out there that are free and easy to use. This blog that one of our writers runs was set up in about half-an-hour after he had an idea in bed one night. It's pretty basic but it doesn't need to be a lot more. Let your imagination go crazy and let your passion flow forth.
10. GO TO THE SHOW!
Having doubts? Feeling a bit poorly? Can't get a ton of friends to come with you? Don't think you can afford a £5 ticket because you spent £20 on booze earlier in the week? Work in the morning? Oh bubbles. You're dead one day, and nobody has ever laid on their deathbed wishing they'd seen fewer artists. You can't download the in-the-flesh experience of seeing music played right in front of your face. Live music is how most acts put food on the table now that the income from recorded music has dwindled for all but the biggest artists. The more you go to see bands live, the fewer of them will have to make awful acoustic covers for adverts.
Moreover, there are parts of the world where music is banned, where most bands don't bother touring, or where putting on live music is incredibly difficult. There are people who can't experience concerts due to health, finances, location, laws, or whatever. To ignore being in the privileged position where you are able to see high quality bands from all over the country/planet is a crime.
Whenever you can, get to the gig.
Eat all of the sounds.
Merry Christmas from everyone here at Supajam!
x
Don't forget to check out Supajam's advent calendar every day in the lead up to Christmas, where will be sharing a little treat with you in celebration of Santa's birthday. There are free tickets, songs, and albums all waiting for you to go and claim, as well as other things to amuse yourself with.