After having fun on our trip to Takedown Festival in Southampton last year, we thought we'd look ahead to this year's event on March 15th and give you a nudge to go check it out.
It's an event for newer rock acts covering areas of Punk, Metal, Emo, and generally the less traditional stuff over five different stages. No pub duffers here. As well as some of the better-known names, last year we found that lower down the bill was curated exceptionally well, and we picked up a few acts that we've been following since. In fact, after seeing them at Takedown, We Butter The Bread With Butter made our list of the best tracks of 2013.
This year sees big name sets from Funeral For A Friend, Jamie Lenman, Chimaira, Canterbury, and plenty more, while elsewhere on the bill we're predicting decent shifts from Idiom, A Tale of Two Cities, Fearless Vampire Killers, and hopefully some new faces too.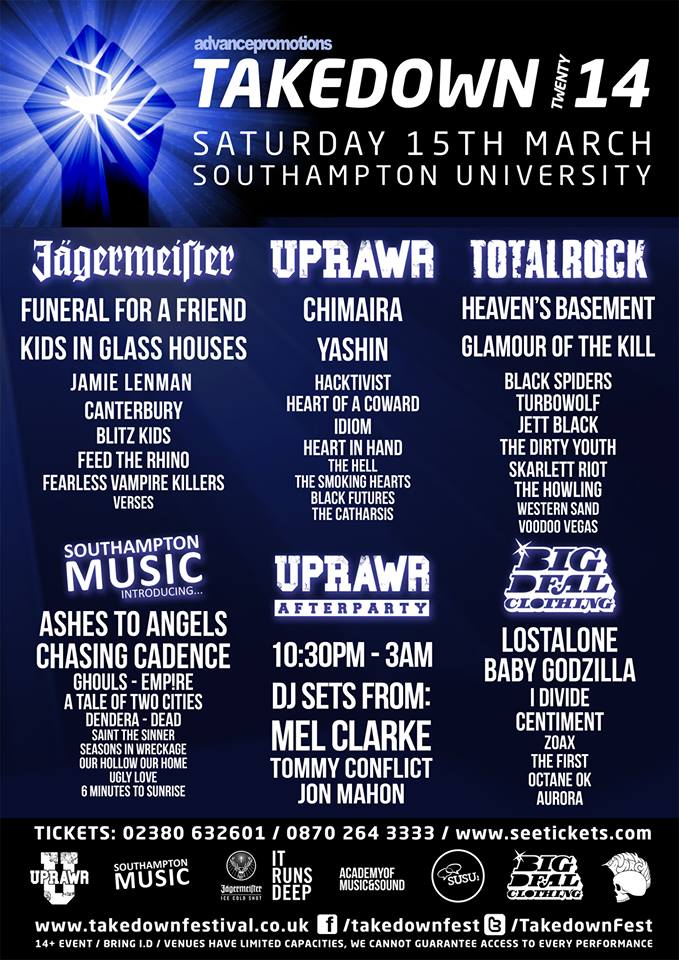 That's the line-up, here's a couple of specific reasons that we think you should give this festival a go if you're able to make it.
1. There's a stage under some stairs
It's an indoor festival spread out over Southampton's Student's Union, so they've been creative with space in a few places. They may not be doing this again this year, but we thought it was an interesting layout idea last year so we're chucking it in. It won't make or break any event, but you won't see it in most places.
2. Tickets are only £30
That's some serious value. There are a fair number of acts on the bill whose individual gig tickets are regularly over £10. It's also worth bearing in mind that you probably won't have the usual festival drudgery of mud, camping, hiking or extortionate food+drink prices to contend with. Last year we hit a pub 5 minutes walk away for dinner, and it costed less than some mystery meat burger and soggy chips that you'd usually get from a festival food wagon.
Buy your ticket right here.
3. FFAF's latest album was one of the best of their career
It was one of our top 20 albums of 2013, and we wrote that it was "a relentless sprint of raw post-hardcore" from a "band rediscovering their best direction." There are some lean slices of pure aural action that you should be getting involved with when these guys headline the main stage.
4. One of the last chances you'll get to see Kids In Glass Houses
The shamelessly catchy Welsh rockers recently announced that their next tour will be their last. That sucks, but it means that this will be a great opportunity to catch them if you're unable to make the tour. Expect massive choruses, soaring melodies, and a lot of energy. It's gonna be emotional!
5. One of the first chances to catch Black Futures
As one band is finishing, another is beginning... sort of. Black Futures were formally known as Subsource, and we absolutely loved them. But a combination of line-up changes and a gradual shift in sound meant that the boys felt it was time for something new. Under this guise they've already supported Prodigy, and begun an eerie promotional campaign. They're highly worth getting down the front for.
If that sounds like fun, then come along. Grab your tickets in advance to avoid missing out on the day.
Andy is a Supajam writer who has had music-based roles at numerous Commerical, BBC and Student radio stations over the last 6 years. He is also a music promoter in the South-East of the UK. He has a website where he interviews musicians with only one question, and he is currently typing in third-person. You can tweet abuse at him if you fancy letting off some steam.