My name is Conrad Bird. I play good old fashioned, three-chord-strum-till-you-bleed, rhythm guitar in the North based folk/indie outfit, Holy Moly and the Crackers. We've worked with Supajam on a number of occasions (Hop Farm Festival, Olympic Safe House Acoustic Sessions). Influenced by folk music the world round, from the dust bowl blues to circus Romani Balkan dances, we play all over the country - from streets to pubs, to roof-tops, to public toilets. Wherever they let us play, we play. Along the way we meet a whole freak-show of musicians. These guys and gals have their fingers on the nerve of what's going on, and they're way ahead of the trend. You've got to be involved in the very here and now to appreciate it. You see, the news is always yesterday's news, and that's just too slow.
Hard Travelin' will be a record of the bands and singers that I meet on the road, specifically around the North East and Scotland, introducing you to a whole range of DIY folk/punk/gypsy/rock n roll bands, and give you some kind of ken into a world of music well beyond the old granddads of music media; MTV, NME, Radio 2 etc. I am here to write about where it's at, now!
For this first blog, may I present for your discernment: The Buffalo Skinners
"Come all you old time cowboys come listen to my song // please do not grow weary I'll not detain you long // concerning some wild cowboys you did agree to go // spend the summer pleasant on the trail of the buffalo"
Woody Guthrie, Buffalo Skinners
Lawrence Mernard (Piano/Accordion), Louisiana born and Californian raised, in his attractive east coast drawl, explains how Woody Guthrie's ballad of the working man's revenge, was the inspiration for the five piece band, The Buffalo Skinners – "you better pay us man, or we'll come after you with a knife". He jokes of course. Nevertheless, you just know that there's no facade with these guys, they are a working band, straight down the line. Their music has the same hard-edged working man's grit that you find with the folk songs of early 20th C. America – a pre-hippy realism; death and murder, booze and gospel. Yet their sound is far from mere dusty imitation of an earlier period and is as fresh as the cold wind off the North Sea, and kicks your ass just as hard!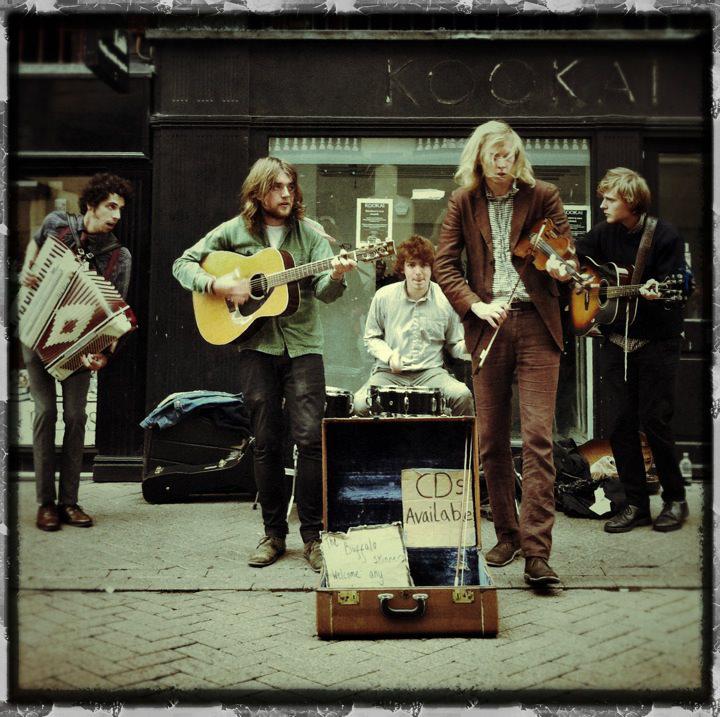 Having met in Scarborough, Lawrence Menard, Pete Seccombe (guitar/harmonica), Robbie Thompson (guitar/bass guitar), Robin Fisher (drums/cello) and James Nicholls (violin), set up camp in a small room in Manchester and recorded onto tape their self titled debut album. It is characterised by punchy guitar, sawing fiddle melody, honky-tonk squeezebox and a rowdy swing-time rhythm. The themes base themselves around travel (Volcano Blues), death and murder (Mississippi Moonlight) and religion (Lord, Lord, Lord). While the majority of the songs are raucous hoe-downs of the first degree, worthy of any whisky filled jamboree, the album shows off another side to the Buffalo Skinners. Robbie Thompson's vocal lead (Promising End, I'm Away, and Ballad of Hannah) is immensely and awe-inspiringly emotive, and feels like that of a man with seventy hard years under his belt. Wooden Box, with its lyrical maturity – simple, precise, real – is not dissimilar to the ballads of Shane McGowan and Hold On, with a musical tip of the hat to The Band, is stunning in its autobiographical conviction "We need to keep ourselves alive, long enough to die together" You sure do believe it with these guys. That's one of the real successes of the album, you believe it! This ain't some monkey junk retro imitation, this is the real thing.
Having produced their own album, they describe how, only days before they planned to start putting down the first takes, they still didn't have a tape machine. Even when they found one it was broken with a worn out drive belt: "We went out searching for a motor belt that could replace it, and ended up taking a wild guess with a big green rubber band next to the till in a motorbike shop. We got home, took the tape machine apart, put the green elastic band on, and it worked!" For me this sums up the album – built from scratch, entirely by hand, oozing blood, sweat, oil, and hard work!
After travelling and playing on both sides of the Atlantic, The Buffalo Skinners have a growing fan base around the world. From day to day they can be chanced upon, tearing up the city streets of North England, with their own brand of song and dance. As well as their album they have recently self-released an E.P. "Sam's Chop House/Lost & Found". I advise any self-respecting or even non-respecting civilian to get hold of these recordings and follow these lads up. They're heading places, be damned sure about that, so all we can do is hoot and holler as they steam on by.
Review: Conrad Bird
Follow THE BUFFALO SKINNERS on Facebook & Twitter
Album / E.P available – http://thebuffaloskinners.bandcamp.com/
T-Shirts available – http://thebuffaloskinners.bigcartel.com/product/t-shirt