So another Hop Farm Festival is done and dusted, but a fleeting memory of sunshine, laughter, cider and the gleam off Peter Gabriel's shiny dome.
As ever SupaJam were proud to send a whole host of acts to the festival, where they delighted crowds with some sheer musical wizardry. We thought we'd catch up with the bands and see just how it was for them.. Here's what they had to say...
Holy Moly & The Crackers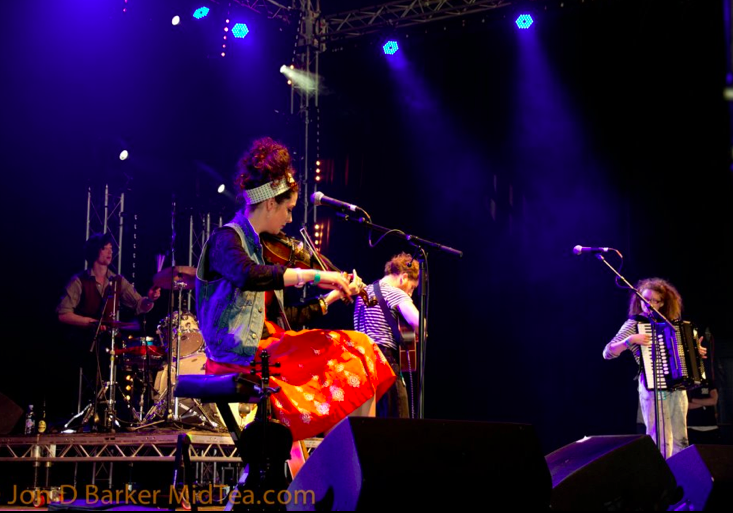 How did your gig go?
The gig went as well as it could go. The Bread and Roses Stage filled up by the end of the second song, and people were dancing, cheering all the way through the set. The sound system, compared to the sweaty cramped gigs we're used to, was truly awesome - in the mountains and sunsets sense of the word.
What was the highlight of your set
The highlight of the set was pssibly the silence that spread across the audience during our female vocalists accapella chorus, before slamming into our raucous rendition of the old-time tune 'Cocaine Blues'. Audience reaction was electric.
And your best experience at the festival?
Best experience of the festival, other than the crack and the early morning song and dance sessions, was seeing Patti Smith in all her glory. That woman has serious cojones!!
What about your worst?
No such thing as worst experience ... purely doesn't exist.
Did you see any other acts you enjoyed?
Other acts we've enjoyed, as I've mentioned was Patti Smith, she was just great. Of course, Bob Dylan. Bellowhead were romping stomping fantastic, Taj Mahal was cool as the blues come. And I have to say the biggest suprise was King Charles. He has great charisma!
Did any of the band get shamelessly hammered?
Band members shamelessly hammered? haha no shame involved but yes, fair to say from dawn to dusk we were all stonked up to the full on all sorts of beer, cider, wine, whiskey, liquor. lighter fluid etc etc. We saw a fair few 6 o clock mornings it has to be said.
Who would be on your dream festival lineup?
Dream Line up? theres a question. I speak on behalf of us all, but it would include Tom Waits, Gogol Bordello, post humously John Martyn, Joni Mitchell, and a whole host of old-time hey diddle diddle cat had a fiddle banjo playing moonshiners!