*This was selected as one of Supajam's best bits of 2013, either by being the most read, specially chosen by our staff, or nominated by our readers. Click here to see more of our highlights from 2013.*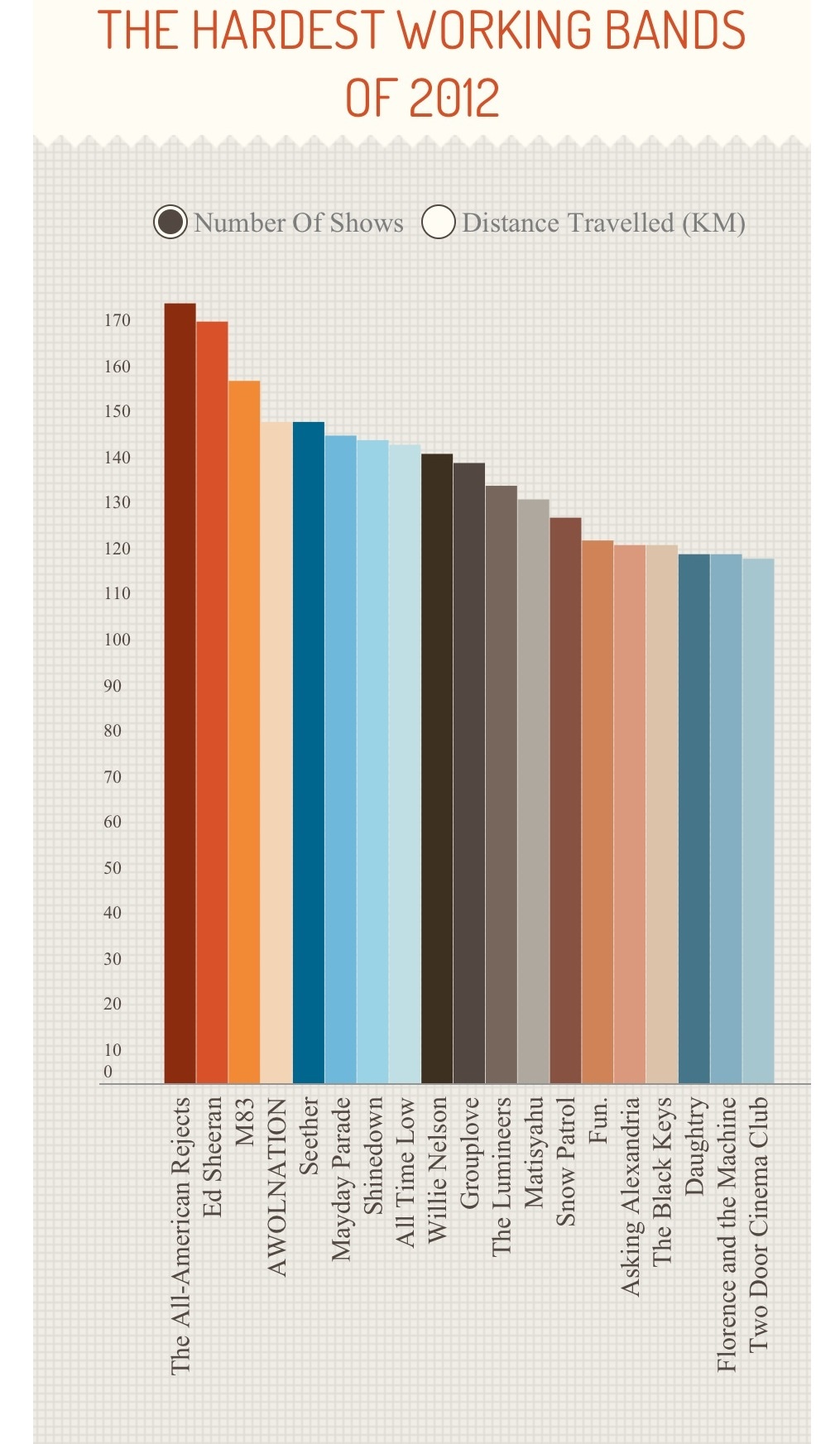 This week Circle Recording Studios in Birmingham's head honcho, Trev, considers how hard bands need to work to be successful?
So how hard do you work as a band or an artist? One gig a week? Two gigs a week? Many bands are working on the basis that they need to be playing on a Friday or Saturday at the very least. In fact, they think they are really flying if they are playing on a Friday AND a Saturday. But is that really enough?
How many bands do you know are playing every night of the week? Not many, right? If you've been reading the blog since the start, this next bit won't be a surprise to you: if you really want to make it in this game you need to work your ass off. This ain't the X-Factor ladies and gentlemen. If you think you're gonna play a couple gigs a week, watch the bidding-war play out and then sit in your mansion playing x-Box for the rest of your life, think again! So if you really want it, start working now. Because if you get signed to Warners or Sony tomorrow, they are gonna expect you to WORK - YOUR- SHINY - ASS - OFF! See it their way. They are going to put a shit-pile of cash behind you. And do not ever forget this: they want it back. Every penny. One hundred-fold.
You see they work on the basis that fan acquisition is something that is primarily your responsibility. Because record labels don't command crowds. They don't command fan-bases. Yeah, they can make your tour schedule a little easier by booking a hotel rather than you sleeping in the back of the van while you are on tour. They can provide roadies to lug your gear around and people to pretend they are you on myface who can keep your profile high by twooting about how many weetabix you had for breakfast and how often you go to the toilet. They can even pay for advertising so that more people know you are actually playing in their town (whether they have heard of you is another story). But ultimately, the playing field is pretty flat when it comes to fan acquisition. Because most things that the labels can do can be covered one way or another by you. For little to no cost. By clever use of social media. Or by a good old fashioned street team flyering for you in advance of your arrival. Maybe paid for by the offer of free gig tickets. Like the old days.
But back to the question. How hard do you really need to work? Let's put it in some context for you. At this point you've probably heard of Bastille, right? If not, check them out here: http://www.bastillebastille.com/home/
Signed by EMI in late 2010 they'd been working really hard until their fourth single charted at No.2 in February 2013 and their debut album, released in March 2013, hit the top spot. So at this point they are pretty successful right? They can take their foot off the gas, right? How hard do you think they are working right now? Well, I'm reliably informed that as of the date of publication of this blog they have played over 250 shows this year. And that doesn't include acoustic gigs or promo events, television or radio appearances, to say nothing of writing and recording sessions, photo shoots, or the time they take to sleep, eat or shit! Their biggest gig? Supporting Muse at the Emirates to a crowd of 75,000. Well that's pretty damn big. Their smallest gig? About 200 in Seattle. Hmm. Really?
So why are they working so hard? Why are they playing such small gigs? They've made it. They are at, or close to, the top of their game. Right?
Simple. Because they understand that hard work will increase their fan-base and get them to the very top of their game. And just as importantly... it's only hard work that will keep them there.
And of course they aren't the first band to work that hard. And indeed, fan-base acquisition isn't the only useful thing that may come out of a punishing gig-schedule. It's well known that before the Beatles seemingly meteoric rise to fame there lay many years of hard graft. It's also a matter of public record that they were no virtuoso musicians in the early days of their existence. But what isn't so well known is that it's estimated that in 1961, the year before they signed their first record deal, they reputedly played approximately 300 gigs. While in the first six months of 1962 they played 155 gigs. A remarkably similar number to Bastille you might think. Also note that, by the time The Beatles signed to Parlophone in June 1962, much had been written about the improvement in their playing skills over the 'Hamburg' period.
So not only had they played until their fingers bled, but they had learned the art and craft of engaging their audience. By this point I must be sounding like a broken record, but is it working? Am I spurring you to action or do you think the hill is just too high to climb? Because if it's the latter... Well, let's put it this way: you can play your X-Box between your shifts at McDonalds.
Anyway, in order to play 300 gigs a year, you need to get the gigs. Right? So how do you increase your gig schedule if you don't have fans in the next town who'll come and listen to you? Well we've already talked about engaging with your audiences and the benefits of social media in this regard but, how do you turn people who you don't even know you into fans that will come to your gigs? As Bastille have obviously spotted, there is still little to beat getting in front of an audience, any audience, and rocking their sox off. So next week, we'll talk about how you can get people you don't know to come and see you play.
The author of Machiavelli's Guide, owes a big debt of gratitude this week to his old mate @sound_coop, FOH engineer, for the insider information on the current Bastille tour schedule and to Songkick for the infographic in the header. Trev, is a record producer and Chief Engineer at one of the UK's top studios, Circle Recording Studios in Birmingham. Check it out at www.circlestudios.co.uk. He has worked with clients from major and independent record labels across a range of genres from metal to hip hop. Follow @circlestudios on twitter if you like the kind of inane rambling you get to read here. Alternatively, look up Circle Recording Studios Birmingham on Facebook.