PARQUET COURTS INTERVIEW AT GREEN MAN 2013

A few months back when our tickets for Green Man 2013 flew through the post-box, We scurried over to the official website to flirt with the line-up a little more. As we scrolled down past Patti Smith, Midlake, undressing the page, we discovered toward the bottom that Parquet Courts were on the bill: we duly flipped out. Their debut record, 'Light Up Gold' had been the pertinent soundtrack to our 2012, and their live set in the Brecon Beacons would become the defining adage of my 2013.

Minutes after their dignified, angst-ridden performance on the Far-out stage at Green Man 2013, SupaJam was taken to Parquet Courts' dressing room and greeted by lead singer, Andrew Savage who stood proud and bare-chested. We began.

SupaJam: Ok so, what were your ambitions going into 'Light Up Gold'?
Andrew Savage: Oh wow, right off the bat, huh? (laughs) To make a great record.
SJ: What were your expectations?

Andrew Savage: Very small (pauses). I initially released it on my label, so my expectation was to make five hundred of them andf hopefully sell through that in two years. I ended up doing the third pressing of it within eight months. So in that aspect, the expectation was far exceeded.
To learn new songs and play them really well; a lot of the songs we learned as we were recording them in those three days, and I also think that expectation was exceeded. We learned the songs and not only did I feel like we did them pretty well in three days, but we did a lot of them well the first time, which is when we recorded them so. But really, nothing was so grand as to, y'know, where we are now. It wasn't really imagined, it was more 'we are a band, lets record and put out a record because that's what bands do.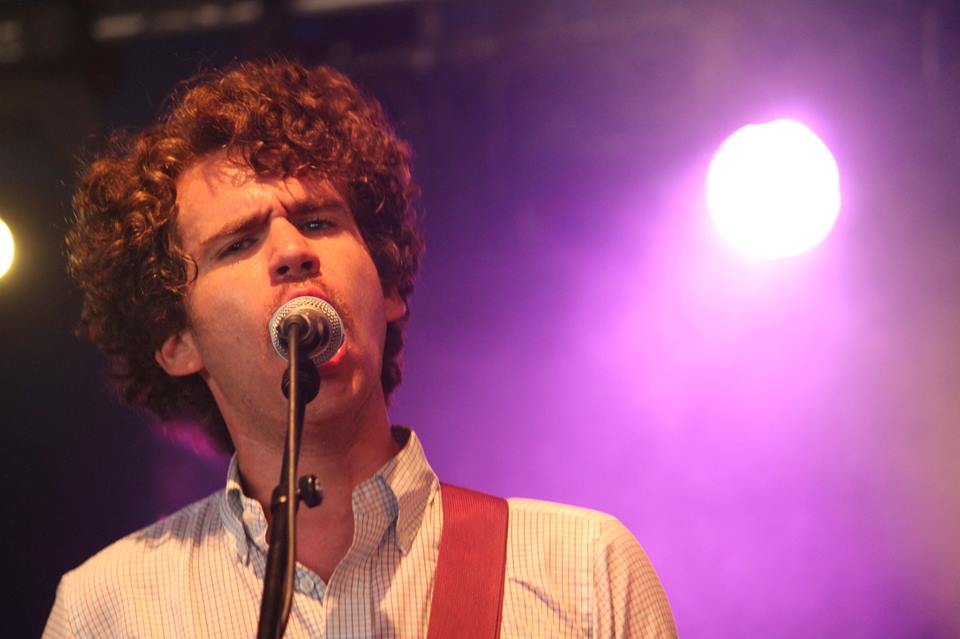 SJ: How do you write your lyrics? And is there more than one lyricist in the band?
Andrew Savage: (Takes bite out of banana) Yeah, everybody has contributed some lyrics. Austin (points toward Austin sat on the sofa) and I share the bulk of that. I really don't have any true method other than I write indiscriminately and I have notebooks full of writing that I later use for lyrics. But usually it comes from indiscriminate writing that I later find themes in and figure out what would work well in a song together.
SJ: Are themes something that is discussed? Whether there's definite theme to the record?
Andrew Savage: No (pauses), well, I mean - yes, maybe not cognitively, but I do think record's have themes whether they know it or not. Like, it's not a theme album by any means, but there's definitely a common consciousness that threads the songs together. There's no doubt about that.
SJ: There seems to be a lyrical style that permeates the album anyway, even though there are multiple lyricists.
Andrew Savage: Sure. I've been writing for a while so, when you keep doing something you do kind of fall into habit and develop patterns. That would really be better answered by somebody who has studied the lyrics because it's hard to really get to the point of what you're talking about without being so inside of it, which I am.



SJ: Are you itching to get new material out? You've been living with Light Up Gold for a while.
Andrew Savage: We're pretty excited about it, yeah.

SJ: The new stuff you played tonight was great.

Andrew Savage: Thanks. We're really excited about it. We've got a 12" EP coming out in October, which will have five songs on it. And then we've got a new LP coming out next year.

SJ: Do you mix for vinyl when you put stuff out anyway?
Andrew Savage: Wait, do what?

SJ: Do you think more about the vinyl than the digital release? Because you put most of your first EPs out on cassette didn't you?

Andrew Savage: Our first one was on cassette and now it's on vinyl.
SJ: So do you think about that when you're recording?
Andrew Savage: It wasn't really until I became immersed in this Indie Rock world that I even recognised CDs as something that consumers still purchased. But I usually don't make music to be put on CD, but I don't think that in the mixing process that we discriminate between CD or Vinyl, no. I plan for artwork on vinyl, so when its on CD it always looks strange because, y'know, it wasn't really intended to be in that dimension, it was intended to be square.
SJ: What's a Parquet Courts song in its rawest state?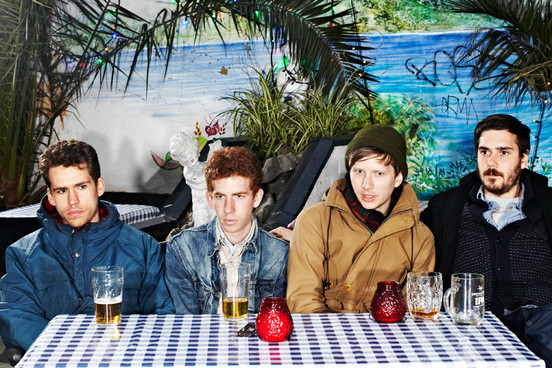 Andrew Savage: In its raw, larvae stages it is just words. And then I make a pattern out of the words, and decide what I'm writing about, then I kind of edit and polish the words then pair them with a riff I've been working on. It then becomes a song, and I bring it to the table, people add their bits and yeah (laughs), it doesn't sound too exciting. But whoever, brings the songs to the table will bring it 75% done, y'know?

SJ: Loved the set guys.
Parquet Courts (In full): Thanks.

PARQUET COURTS INTERVIEW AT GREEN MAN 2013