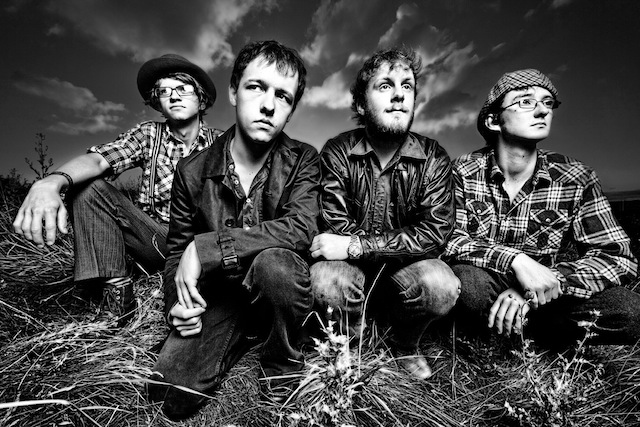 We thought we'd start our weekly focus on new bands with the winners of our Fast track to Hop Farm Festival, the Huddersfield based proponents of beautiful, intricate sci-fi folk, Maia.
Meeting at Huddersfield University in 2009, the 4 piece are made up of Tom Clegg (Guitar/ Ukulele/Vocals), Joe Haig (Piano/ Trumpet/Vocals), Simon Robinson (Guitar/Banjo/ Mandolin /Vocals) and Will Fletcher (Drums/Cajon/Percussion)- between them they pack more instruments into a single song than most bands can squeeze into a career... Excellent current single Living in the Alligator combines a hushed, propulsive vocal with a backing track that sounds like a banjo wielding Talking Heads quick stepping through a fiesta—
Maia - Living In The Alligator by Supajam
We caught up with Maia to ask them about their sound, their plans for the future, and alligators--
SJ: What exactly is sci-fi folk? And does anyone else make it?
M: We felt that 'acoustic psychdelic indie-folk with hints of bluegrass-funk' was an overly-long way of describing our sound. 'Sci-fi folk' sounded better. We expect more sci-fi folk bands to start appearing around the year 2030.
Having seen you live, we want to know - are there any instruments you can't play?
The instruments we can't play don't bear mentioning (with the exception of the piccolo).
What were your best/ worst gigs/ band experiences of 2011?
Best: playing at the Cambridge Folk Festival. Worst: spilling orange juice on our brand new expensive keyboard immediately afterwards.
What have you got coming up?
We are touring in February to promote the release of our single 'Living in the Alligator.' Dates to be announced shortly on our website. After February our efforts will be on promoting our album release in April / May.
How many of you could live inside an alligator?
That depends on how many extras turn up for our video shoot later this month!
The lads have been kind enough to give us this quite excellent exclusive video to new track Grandfather Plan - watch below-