These are the meandering thoughts of Ash Spencer, manager and band member of Yossarian. A new Alternative DIY band who have decided to set sail on the ocean and play the game.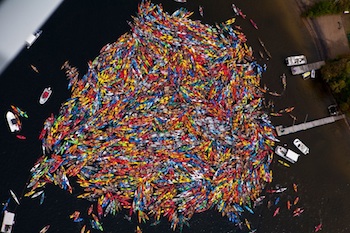 We're sailing around trying to engage with new seagulls. There are plenty of flocks gliding overhead wondering if they should fly down for a closer look. They're high in the sky and they can see so many boats below them. They're spoilt for choice.
A curious flock make eye contact and we beckon them down to take a closer look. Straight away we realise that this may not go too well as some of the seagulls are wearing steamboat and whaleboat T-shirts.
One of the seabirds squawks up with the old question we want to hear yet at the same time have absolutely no idea how best to answer; What kind of seafaring vessel are you?
We turn to each other in a panic, quickly remembering that we forgot how to remember how to answer this question. The first mate looks across at the captain, who in turn sharply stares at the docker and the bosun desperately hoping that somebody else will speak first.
There's a moments silence as the flock grow restless and the crew feel that something needs to be said before these creatures spread their wings and glide away high over the passing ships.
The deckhand dives in. "Well.....we don't like labeling ourselves but we've been compared to a three-point hydroplane with catamaran leanings, there's a hint of outrigger in our rhythm section, but we're influenced by hovercrafts and galleons. A flock that saw us yesterday thought we were a bit like post-kayak revivalists with hints of trawler ".
Another awkward silence. A couple of hushed squawks are traded amongst the flock.
The ship's captain gives the deckhand a look that says "Good effort lad, but go fetch the mop. These birds are about to crap on our boat".
"I'm afraid we're more into yachts, supertankers and whaleboats" hoots one of the gang, but I guess your boat may interest others. Good luck, you'll probably find plenty of three-point hydroplane fans about 3,460 miles out east".
As the flock soar overhead into the distance, a couple of them crap on our boat. "That could have gone worse" chances the first-mate.
"Agreed" agrees the captain in an agreeing fashion. "Look, there are some gulls perched on that rock over there. Do you think they'll be into post-kayak revivalism?".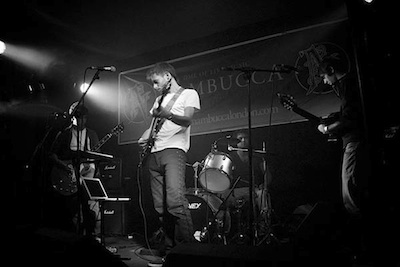 You can find out more information about Ash's adventures at sea with Yossarian including news, music and tour dates at their website: www.yossarian.com