YO-MOTHERLOVING-HO!
It's Christmas! Well, sort of. But whatever, we fancied a planet's worth of free sherry and pie so this year Supajam is squeezing into a poundshop Santa outfit and giving you a little treat every day in the build up until Christmas.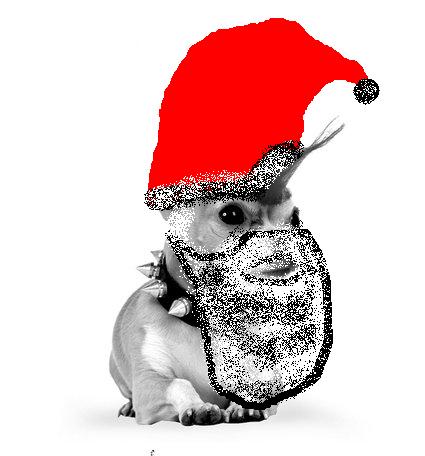 That looked better in my head.
Anyway, behind each door will be a gift from us to you. It could be a free download, a video, tickets, a competition, a special article, or something else. Come back every day to see what we have in store for you.
1 - Free EP, exclusive video, and special discount code from Traffic Experiment
2 - We've got a free track from Essex Blues Rock dandies, Harper
3 - FREE TICKETS for The Boileroom, Surrey
4 - FREE TICKETS for Sophie Hunger, Emily Underhill, and Robbie Boyd at The Garage, London
5 - FREE TICKETS to 30th anniversary screening of Wild Style, plus after party at Oval Space, London
6 - The filthiest posh Christmas song in the world
7 - The most odd German song you will hear today, or any other day for that matter...
8 - 100 free downloads of The Doppler Shift's debut album
9 - Free download of 'Fuck 'Um Deep' by Suck Fake, 24 HOUR ONLY
10 - Intense cover of 'All I Want For Christmas is You' by twothirtytwo FREE DOWNLOAD
12 - An incredibly creepy video, WITH CATS!
13 - Gorgeous 'Teenage Dirtbag' cover by Mary Lambert
14 - FREE Danni Nicholls EP and album sampler
15 - Why you should be careful about who you give your Twitter details to
16 - 'Have Yourself a Merry Little Christmas' from Emma Stevens
17 - New video from Mark Morriss (The Bluetones)
18 - FREE EP from Luke De-Sciscio
20 - FREE WEEKEND TICKETS to Lubstock Festival 2014
21 - 'Lonely This Christmas' cover by Frank Hamilton
22 - Folk-Swing cover of 'Last Christmas' by Charley Farley Sunday Four
23 - New Kingsfoil song and Red Roosters video
24 - 10 New Years resolutions for music fans
So much good stuff! Time to get your Christmas on, either like this...
or this, depending on how much Coca-Cola you have drunk...