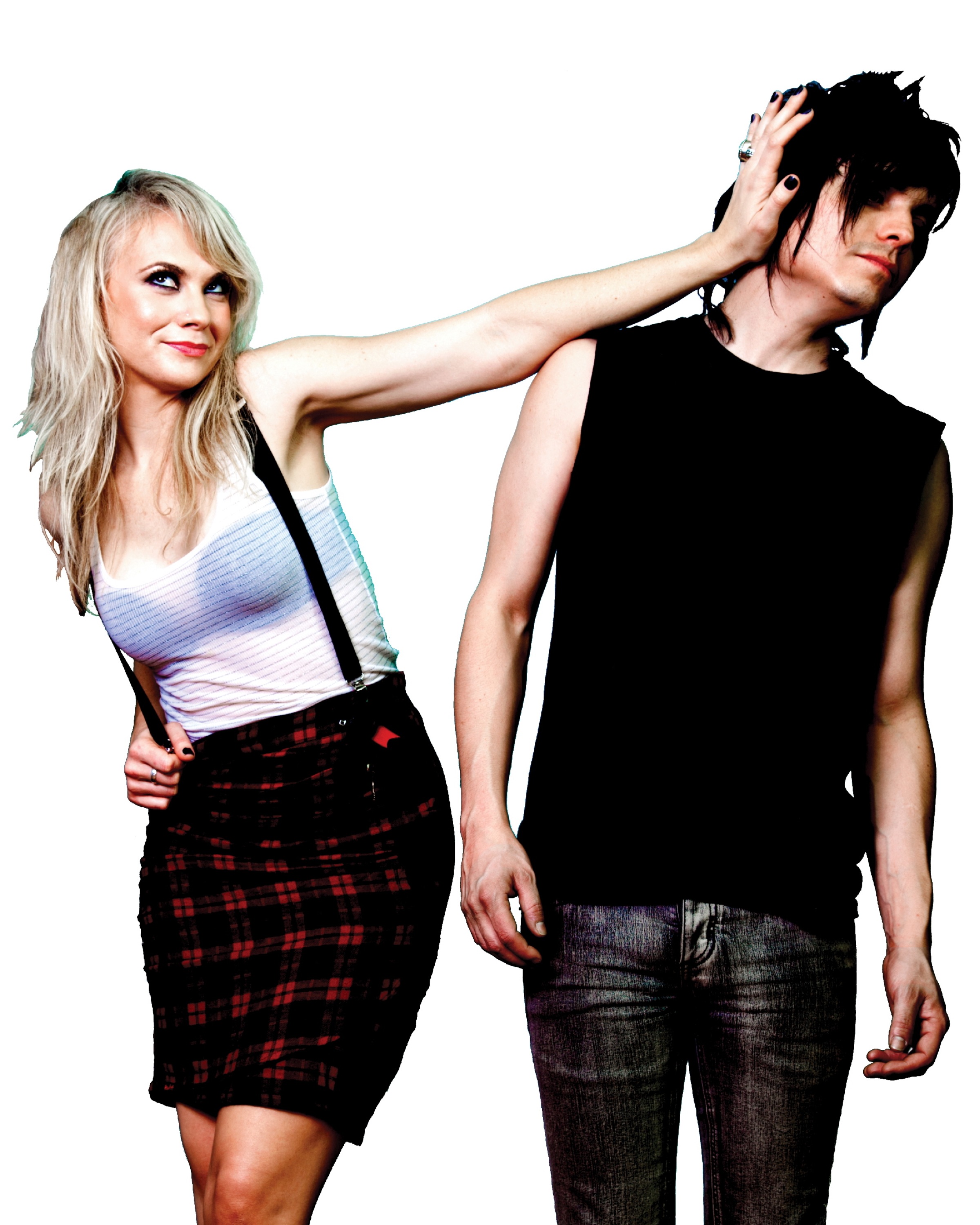 Normally we stick to previewing UK acts in New Band of The Week, but after a recent sojourn in the madhouse that is LA, we came across The Dollyrots, a fun & furious burst of pop punk that we calculate as 2 parts Cindi Lauper to 3 parts waking up in your own puke. Born in Florida and based in LA, the duo of Kelly Ogden (bass/vocals) and Luis Cabezas (guitar/backing vox) are childhood friends pursuing a rock n roll teenage dream, and working through 'round a million drummers to get there...
The band are getting set to tour the UK with Bowling for Soup this October, and seeing as we liked what we heard, we thought we'd give them a chance to introduce themselves before they hit our shores….
You've just self released your fourth album after a kickstarter campaign -- How did you find recording the new album as independents? Whats been the best/ worst thing?
We've always been really involved in the business as well as artistic side of the band so going "independent" just kind of felt like we were getting back to our roots. We self-released our first album "Eat My Hear Out," before Lookout/Panic Button picked it up and even released a handful of songs off "Because I'm Awesome" as an EP before Blackheart picked it up. This time was different because our fans backed the album via Kickstarter and we didn't have to go into oodles of debt to get it made. I think knowing we were turning it into our fans rather than a label or just ourselves made us work that much harder. We really pushed ourselves to be more creative and the end result wouldn't have been possible had we not had the pressure of making sure we weren't going to let down the most generous and hardcore fans in the World. That we were free to do whatever we wanted and create an album that works from the first second to the last and looks exactly how we want it was the best part. Fulfilling the non-musical side of things was really really hard. My apartment looked like a warehouse! If people wanted to hang out with us before the tour they'd have to come over and help us pack up hundreds of Kickstarter packages because it was just so time consuming. BUT we wanted to make every package special, because our fans deserve it. So all those paper cuts, all the sticky teeth from tearing the tape... worth it.
What was the weirdest thing you gave away on kickstarter? Is there anything fans asked for that you wouldn't give em?
Ha. I'm not sure if the lock of my hair in the cookie goodie boxes or Luis' bloody fingerprint on the Tab was the weirdest. And all requests were granted! ;)
Any suggestions for anyone trying to launch a kickstarter campaign?
YES. Be sure to calculate the postage before pricing your packages. ESPECIALLY when shipping internationally. We spent way more than we expected on that stuff. We ended up PAYING to send people LPs in the UK. Now that's love.
So your coming to the UK, is this your first time? And is there anything you're looking forward to/ expecting?
We were last in the UK with Bowling for Soup in October 2010 and had the time of our lives! We're expecting everyone to know the words to our songs like last time! And LOTS of sweaty hugs and drinks with new and old friends. I'm REALLY looking forward to some good curry!
Are their any English bands your particularly into?
We love The Priscillas, The Pipettes and play with Buzzcocks when they come to the US... we're hoping people bring us CD's of their awesome English bands to listen to.
What can fans expect from the live show? We guess your pretty high energy....?
Ha, yeah. Even on the days when I'm hung-over and feel like I haven't slept in a week, the second we start I just can't contain the energy. We'll sound like the recordings but with more balls!
And what we really, really want to know; who would you pick to play each other in the movie of your life?
Oh man... I guess Emma Stone could be me. Luis? We'll need a time machine for that... he says "Johnny Depp circa Cry Baby."
The Dollyrots tour the UK with Bowling for Soup on the following dates this October: