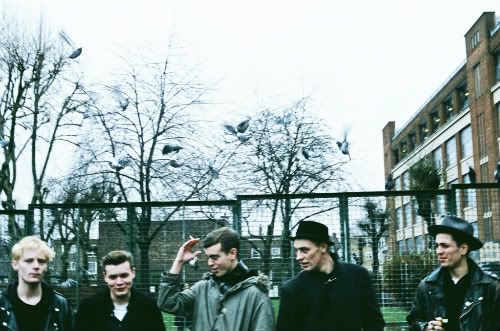 Zulu have been cutting a swathe through England's beer sodden venues, touring in support of US hardcore act Cerebal Ballzy, and bringing just as much snarling punk mayhem to the stage as the New York headliners. Formed last year the 5 piece have been quickly getting a name for themselves for hyped up intensive shows, and a ferocious work ethic that has seen them release one mini album already, with another two planned for this year. Playing aggresive, loud punk and looking like trouble, they have all the violence and threat a great rock n roll band thrive on. On stage, lead singer Luke twitches and screams like a huge Satanic bastard, while the band hammer home tight bursts of 80s influenced hardcore. When we saw them the venue descended into a moshing, flailing free for all, and it was easily one of the best shows we caught for months... wanting to know more, we fired over a few questions to try and find out what make em tick...
Can you tell me who does what in the band? I may be wrong, but did I see Dan from Fat Whites playing drums for you?
Yeah both Dan and Jak play in Fat Whites. Luke (me) Vocals, Jak Lead Guitar, Dan Dums, Louis Bass, Sam Rhythm Guitar.
And how did you get together?
I've known Sam for about five years, just through going to gigs in London, and we've both known Jak for a while. Last year I went on tour with Ballzy with Louis and we decided to form a band, this was around Glastonbury. The first couple of rehearsals were at Ska in Camden, with just me singing, Louis on Bass and Sam on guitar playing Ramones covers. Then we asked Dan to come down to a rehearsal and he liked our sound so joined, and then Jak joined a couple of days later on lead guitar.
What have you got coming up? Any releases planned?
We've just come off tour of the south of the country with Cerebral Ballzy, and just want to get back on the road again as soon as possible. We want to play as much as we can to as many different people. In terms of releasing, I set a target at the beginning of the year to release about 30 tracks across 3 demos. So we're aiming to release something else in around a month or two then another near the end of the year.
Here's the bands first, long old out cassette album...
We're loving the imagery in Sistine Chapel-- which tune would you play to introduce people to Zulu? And why? ( I feel like that reads like Im asking a question on Blind Date. Bonus.)
Annoying song (Do You Recognise) its our intro song and the first song we ever wrote
The tape release seems a deliberate attempt to emulate punk scenes of the 80s and 90s. Whats the appeal?
It wasn't an attempt to emulate anything its just all we could afford. We wanted to release the songs and just have a physical thing to mark this, which is too often lost since we've entered this online world.
I've never met a band yet that want to be pigeon holed as 'political', but there's undeniably a lot of personal politics and anger in your music, is this a conscious direction you've taken? Or just what comes out?
Its all very natural its just what happens, I think it was just a reaction to combat the nerves when I first started doing this.
And do you have any thoughts about the state of UK culture in general? We feel your not short on opinions...
I feel for us all not just the UK. I think this place is doomed.
Vent a bit: What 3 things really wound you up this year?
Sam Gilbert, Jak Payne, Dan Lyons and Louis Simonon. Oops is that 4 I must of got a bit carried away.
And are there 3 things that made Zulu happy?
To have survived so far. Finally getting the opportunity to play outside of London, all having the chance to squeeze into a people carrier together and drive up and down the motorway for a week.
And while we're here, can you recommend us a great punk album we may not have heard?
The Congos - Heart of The Congos