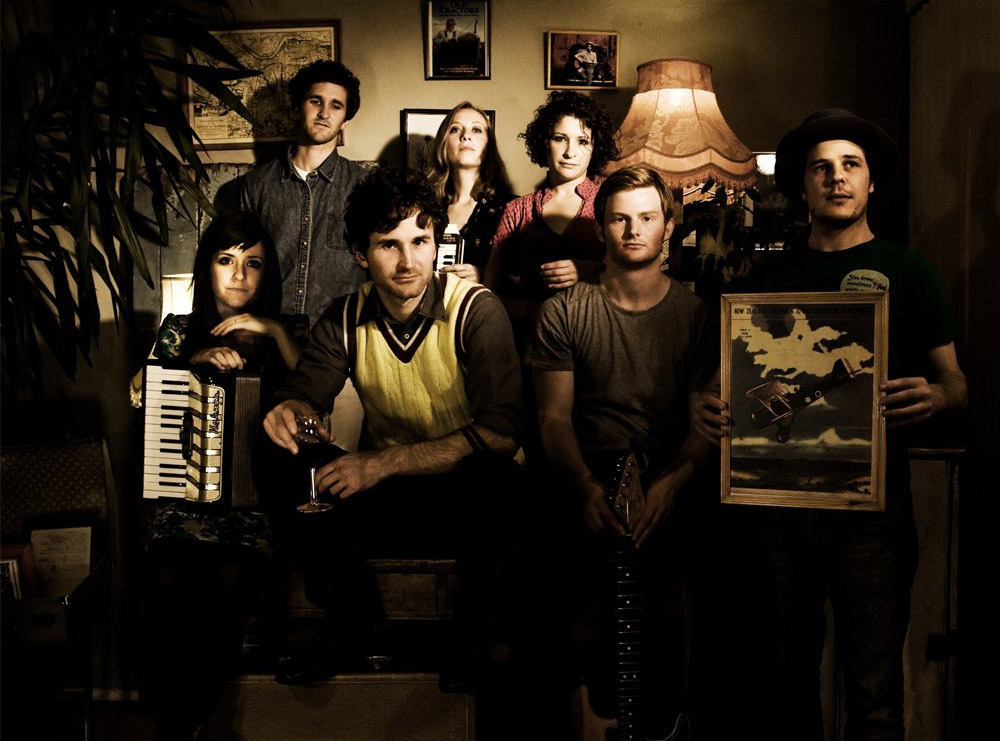 Flight Brigade are a rock/folk collective formed by the coming together of two families – the Baines and the Hughes. Hailing from a sleepy Hampshire village, both family homes are cluttered with old instruments, amps and recording equipment. The children that grew up in these homes started making music together and in 2010 met with musician friends in a derelict church. Flight Brigade was born.


Lead singer Oliver Baines, who spent his early years on a farm in rural Ohio, is the eldest of four brothers and is married to the eldest Hughes girl, Miriam (vocals, accordion, glockenspiel). Her younger sister, Dorry, plays the violin and arranges many of the instrumental parts. The bass player (Clay) grew up on the same road, whilst the drummer (Blandford) and lead guitarist (Pink) attended the same college as the rest of the band. Seventh member (Barker), who previously helped with fixing equipment and general technical wizardry, joined in late 2010 when the band discovered he could both sing and play the piano. Flight Brigade are knit together by the second and third Baines brothers, Jess and Seth, who produce all the bands artwork and video.

In their day, both the Baines and Hughes parents were involved in the folk scene and lived on both sides of the Atlantic. Classic albums by Fleetwood Mac, Tom Petty, Fairport Convention and James Taylor have always been on heavy rotation and it is from this atmosphere that the Flight Brigade sound has grown and developed. With solid song-writing and lyrical poignancy, their music is characterised by infectious melodies, exquisite arrangements and heartfelt energy.
For the SupaJam/ Gibson EP the band have submitted the haunted, ever climbing Sirens, a beautiful example of their songwriting prowess. Here's a preview: