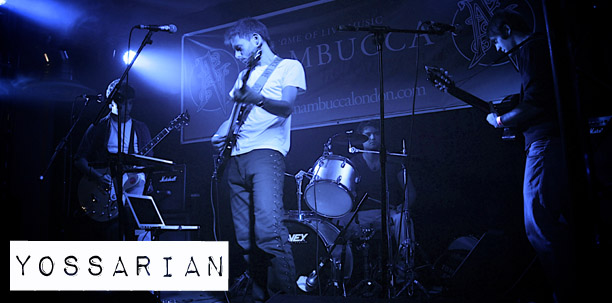 Yossarian build sky scraping indie epics, lashing together grandiose accelerating guitars with Hades deep vocals - if comparisons are your thing, think Ian Curtis serenading you with the songs from Tommy, or Nick Cave fronting an amped up Arcade Fire- high praise, but they wear it well...
Born from a chance meeting between an Argentinean and an Englishman in a Madrid tapas bar, the bands international, existential rock has taken them from festivals in the Netherlands to appearances on Spanish TV, to the slot we've given them at this year's Hop Farm Festival. They're teetering on the brink of becoming as massive as they sound, as you'll be able to tell from the song they've submitted to the SupaJam/ Gibson EP - the soaring anthem Arrow Part 1:
We recently caught up with the band to get the lowdown on how their albums going, Spanish TV, and the title of a good book-
What are you up to at the moment?
We'll be launching our crowd-funding drive next week in order to finance the recording of our debut album. We're delighted that the incredibly talented Argentinian artist Citlali Mercer whose artwork appears on our flyers and EP will be creating 10 new pieces especially to help us raise the funds.
How's the album going?
It's all in place, we just need to raise the funds for recording it, we hope to have it released in the summer. If we can raise enough funds we're going to record it in Spanish as well.
How did you get involved in the Spanish TV hook up?
We kidnapped the Spanish TV director and forced him to keep watching Britain's Got Talent until he eventually relented and agreed to put us on.
You've got a fairly literate band name, recommend us a good book-
A Confederacy Of Dunces - by John Kennedy Toole
The Selfish Gene - by Richard Dawkins
I, Partridge: We Need To Talk About Alan - by Alan Partridge
And while you're at it, how about recommending us an album and a song?
Albums: Dark Side Of The Moon - Pink Floyd, Takk... - Sigur Ros, Pet Sounds - The Beach Boys
Songs: Life On Mars - David Bowie, In The Backseat - Arcade Fire, God - John Lennon