A statue of Kurt Cobain has been erected in his hometown of Aberdeen to celebrate the new 'Kurt Cobain Day', and it's not great...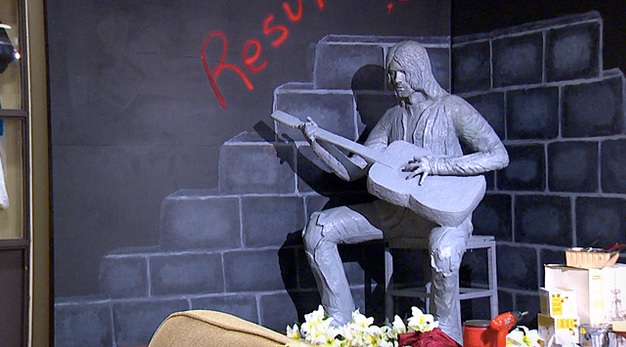 The statue depicts the deceased Nirvana frontman with his eyes shut, and a single tear rolling down his cheek. Can you imagine a man who had such a self-depricating, meek character would appreciate this bizarre statue? Goodness knows.
Aberdeen Mayor Bill Simpson has said the following: "We have been remiss for a long time of not honoring him." He also said that he wanted Kurt Cobain Day, which was a controversial decision because of Cobain's expressed disdain for the town and arrest for vandalism there, to boost tourism in Aberdeen. "We hope this is just as big as Graceland eventually," he said.
The media have offered the following interpretations:
"Aberdeen Honors 'Kurt Cobain Day' With Bizarre Crying Statue" --Pitchfork headline
"(T)he local news coverage from network KING 5 ... essentially mocked the entire tribute and made tasteless jabs at Cobain himself." --Rolling Stone
"(U)m, the bar has not been set particularly high for Hoquiam. ... It seems a little unimpressive, doesn't it?" --Stereogum
"Mayor Bill Simpson's efforts were modest, highlighting Cobain's legacy through a small event that unveiled a statue that was a touch more maudlin than the deceased artist probably would have liked. And even aside from that tear-strewn effigy, the event proved controversial, hinting at why Cobain railed against his hometown all those years ago." --A.V. Club
"So the city, which is about 80 miles outside of Seattle, is honoring the late frontman (who would have been 47-years-old yesterday) with a statue ... that kind of looks like the lead singer of Nickelback crying?" --San Francisco Chronicle
"Oh no, no no no. Crying Kurt Cobain is like the Weeping Angels on Doctor Who, but more horrifying." --Uproxx