As well as surmising and articulating our post-Brexit-horror-meets-euphoria mental state at Glastonbury with her stunning 1am 'Pop Dungeon' at the Rabbit Hole, Charlotte Church has shared her reaction to Nigel Farage's resignation from UKIP.
Yes, the millionaire, ex-banker, most punchable face (followed closely by Boris Johnson) in the UK winner 2016 has decided to quit his role as UKIP's leader, though he'll still be on the payroll as an MEP. He left because he "wants his life back".
Well, here's what Charlotte had to say about that: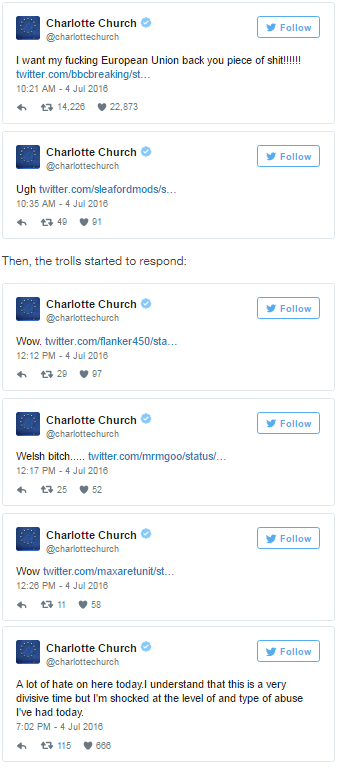 Charlotte posted on Facebook then of the abuse she'd received: "Maybe I shouldn't have lowered myself to calling Farage names but the messages of abuse and threats I'm getting on here are horrifying. I will be reporting them to the police. I understand many of us have different opinions on this but lets try and stem this swell of hate. I will heed my own advice, but I find Farage very difficult to understand/ have any positive feelings for."