Kiss singer Gene Simmons has come under scrutiny following comments that refer to Prince's death as 'pathetic'.
Simmons chose to compare his tragic demise to that of David Bowie.
"All the other ones were a choice," Simmons said. "[Prince's] drugs killed him. What do you think, he died from a cold?"
He continued: "I think Prince was heads, hands and feet above all the rest of them. I thought he left [Michael] Jackson in the dust. Prince was way beyond that. But how pathetic that he killed himself. Don't kid yourself, that's what he did. Slowly, I'll grant you... but that's what drugs and alcohol is: a slow death."
Simmons' Kiss bandmate Paul Stanley referred to the comments as "clueless".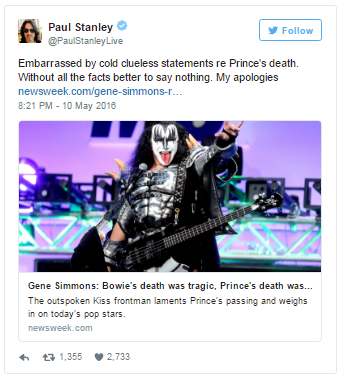 Simmons has since taken to Twitter to apologise for those comments.