Glastonbury festival has announced a tribute this week to the late Labour MP Jo Cox who was shot in the street last week by a right wing extremist.
The plans were announced today: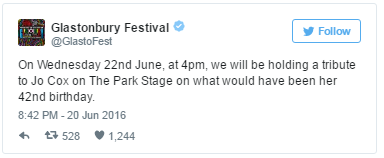 Glastonbury will also be announcing its first ever live album, and it will be in her honour.
"We are making this special live album from Glastonbury this summer because the scale of the refugee crisis is so huge we simply had to do something," said Glastonbury organiser Emily Eavis. "We want people who are far from home and frightened to know we are doing whatever we can to help. To know the artists who play here are doing whatever they can. To know the people who love their music are doing whatever they can. Now it's time for world leaders to do the same.
"All of us – Glastonbury, Oxfam, musicians and music-lovers everywhere must Stand As One to demand action for refugees."