Whether or not you were one of the confused British people chugging your way through the Super Bowl this year, the part you would've recognised was the bit in the middle when Chris Martin, Beyonce and Bruno Mars sang.
There's nothing we love more at SupaJam than bringing a little balance to the universe, especially in the media. And we salute artists for taking advantage of a platform they have to do something brave when the opportunity presents itself.
In this instance, the show has been criticised for the support of pro-black and homosexual propaganda. We'll let you judge it for yourself.
The show opened with what the Guardian described as "a marriage-equality inspired rainbow wave of placards" held up throughout the stadium, spelling out the message, "Believe In Love." Whether you consider that the rainbow colouring was in keeping with Coldplay's new album or that it was a subtle, heartfelt piece, media and morons in America took offence to it. Especially Twitter user #HilaryForPrison... Yup.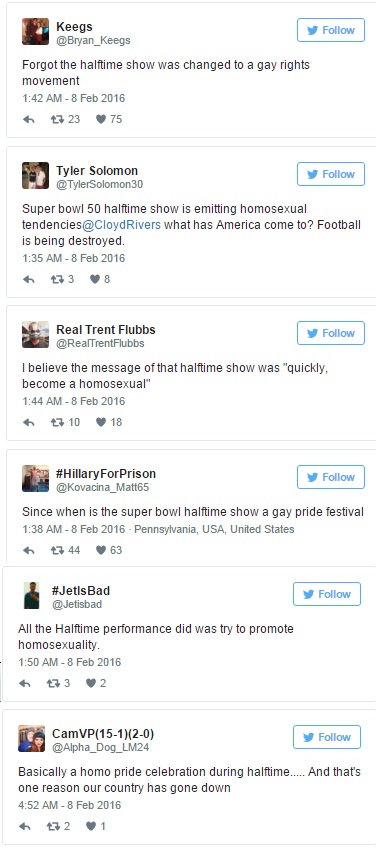 Depressing you enough? Well, we have more. During her performance, Beyonce referenced the black panthers and the black power salute, with her dancers eventually holding up the sign "Justice 4 Mario Woods" - a black man shot dead by police last year. This ruffled the feathers of FOX News panellist, former New York City mayor Rudy Giuliani who said, "Let's have decent, wholesome entertainment and not use it as a platform to attack the people who risk their lives to save us."
Whilst FOX News contributor Michelle Malkin tweeted, "Cuz nothing brings us all together better than angry @Beyonce shaking her ass & shouting 'Negro' repeatedly."
If they're not going to listen, make it happen when they have to.