When the Elvis revolution began in the mid to late fifties, there was a slew of people who were captivated by his charm. And, sure as you know it, there were bitter, twisted rebels without a cause like us who couldn't stand him.
So Colonel Tom Parker, being an opportunist, monetised them by selling "I Hate Elvis" badges. They were a hit.
One of the vintage badges: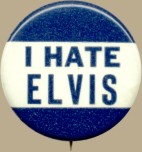 Counterculture 0 - Opportunism 1.