Johnny Marr has been speaking out against Spotify, Haim and the Prime Minister in his "Alternative Queen's Speech" in NME.
"I think it entirely hampers new bands," he writes, agreeing with the likes of Thom Yorke, David Byrne and more with his viewpoint. "I can't think of anything more opposite to punk rock than Spotify. I have no answer to the economic side of the music industry, but I do think we certainly shouldn't stop valuing what bands do. I don't like great things being throwaway."
Johnny Marr's piececontinues: "Pop culture isn't just about 'the music, man'. It's a way of life, and an aesthetic, and it's not just about pressing a button and getting something entirely for convenience. Put it this way: we're soon going to start seeing the difficulties of innovative music trying to swim in that huge tide."
After complimenting Grimes and Chvrches for supporting women's rights overtly in their music, he said that Haim were made to look "like idiots" for their recent photo with David Cameron.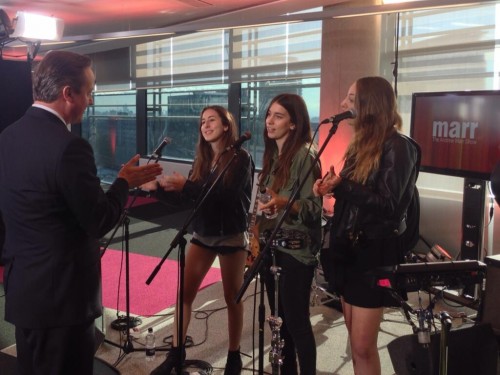 "It's really simple: they made themselves look like idiots," Marr says. "The Conservatives tried to do the same thing with the Smiths, to re-appropriate us in a false way, to be cool by association."