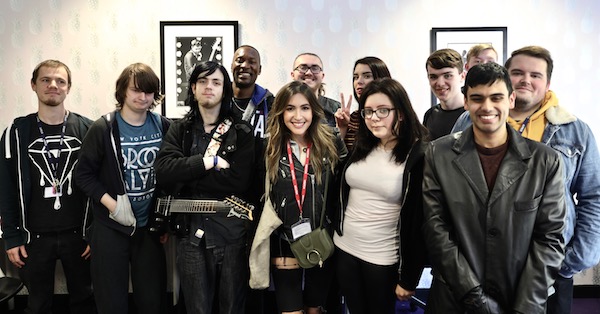 Kate with some of the SupaJam students
Kate Voegele talks new music and the entertainment industry during her visit to SupaJam's music college in the U.K. Words by SupaJam student Katie Titus
Last week students were pleasantly surprised to have Kate Voegele come and visit SupaJam and talk new music and the industry.
The 'Shoot This Arrow' singer-songwriter enlightened students that she had currently been writing new music in France which is set to be out early next year. She also spoke about her latest single 'Shoot This Arrow' and explained how she was heavily inspired by the '#Metoo' movement, wanting to express how you can ''take the power back.'' Kate expressed how important it is to ''find people to talk to'' which for some students was extremely helpful to know that it is ok to ''speak out'' and realising that like Kate said ''taking care of yourself is so important''.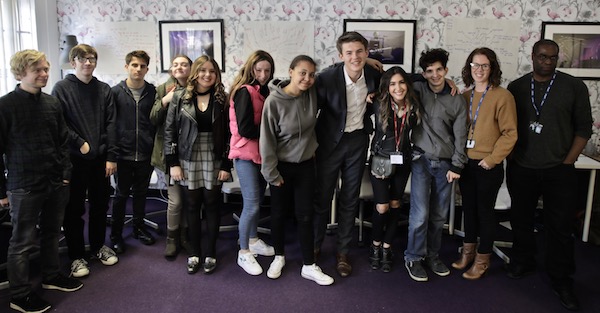 Kate with some of the Level 2 students
Voegele's courageous and charming ambience certainly set everyone at ease. Her view on the industry was truly refreshing when she explained how ''grateful I am for the people behind the scenes'' advising students on how it's ok to ''try different things.'' From musician to actress, she's a pure example of how you can be whatever or whoever you want to be and don't have to follow the crowd as you can be a successful prototype.
After Kate's visit, she promised to return back and said that the music college that was founded as an access to music stepping stone was both ''really inspiring'' and ''means a ton'' to her as they offer a once in the lifetime opportunity for 16-24-year-olds.
Kate with her manager, Brett Hughes and SupaJam CEO's David Court and Nick Stillwell
Check out Kate's most recent release "Shoot This Arrow" below.