Liam Gallagher is like that drunk Uncle at the funeral: you used to think he was cool, but every passing moment just makes reality hang heavier and their figure cut a sadder frame.
The man wants an Oasis reunion. He'd love it. And we don't blame him: being on stage and affirmed by legions of people is a drug that you just can't replace the affirmation of. Though bag after bag of cocaine helps.
But Liam's been tweeting again. The old bastard has been tweeting again. He wants that reunion so bad, but Noel is busy being "too beige" apparently.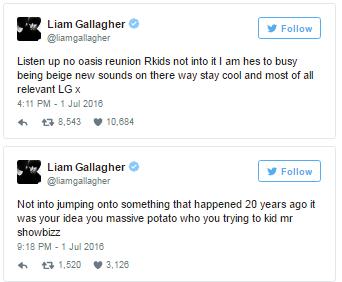 Will have to stick to the cocaine for now then.