Parklife festival's founder has today tracked down a man who was boasting about huge profits he'd made on tickets, and cancelled his order.
The Manchester-based man claimed on Facebook that he was planning to sell 12 tickets for "triple price on the day" of the event, so Sacha Lord-Marchionne pulled the plug as it were.
"I bought 12 tickets and I will be selling them at triple price on the day of Parklife," the tout wrote, before adding: "It's all business."

After spotting the post, Lord-Marchionne tweeted: "You've just won the Total Dick of the Day Competition... going to cancel your tickets now!"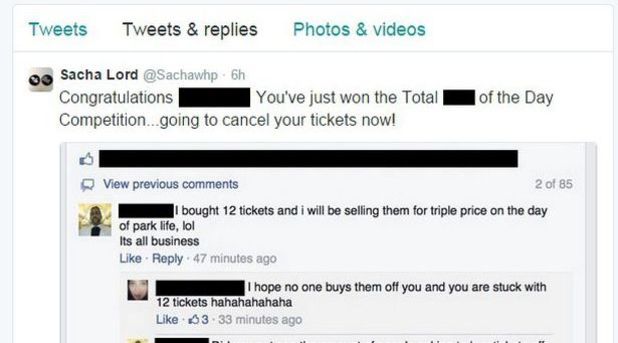 He added to the Manchester Evening News: "Ticket touts are the absolute bane of our lives. At sporting events it's illegal, but we're not a sporting event so sadly it goes on. And it really annoys us and it really annoys customers. I know for a fact at the last Parklife, tickets were changing hands for £300.
"It's just ripping people off. So when I saw that I thought, 'I have to do something'. We've cancelled the tickets and refunded them and we'll put them back on sale."

He has since responded to the founder's message, saying that he had been framed by an ex-girlfriend who wanted to get revenge on him.
Parklife 2015 takes place at Heaton Park in Manchester over the weekend of June 6 and 7.