Primal Scream frontman Bobby Gillespie joined a host of people from the music industry marching through London on Saturday against austerity with an estimated crowd of up to 250,000.
The march marked George Osbourne's announcement of around £15billion in cuts to welfare.
Gillespie took to Primal Scream's official Facebook page to post that the event was "charged with righteous energy" and that he was pleased "to see such mass resistance against the venal swine who are governing / ruining our country." Charlotte Church, however, told the crowds on Parliament Square that she's "here today in a show of solidarity with everyone here who thinks that austerity isn't the only way and thinks it is essentially unethical, unfair and unnecessary." Read her full speech here.
The likes of Owen Jones, Russell Brand, Green Party MP and leader Caroline Lucas and Natalie Bennett, prospective Labour leader Jeremy Corbyn and more also spoke to crowds on Parliament square.
Super Furry Animals frontman Gruff Rhys also tweeted his support of Charlotte Church's presence at the march.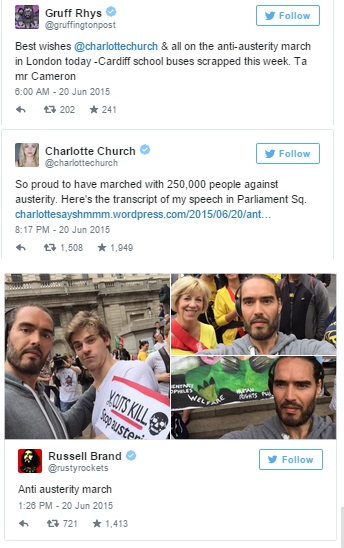 Here's what Gillespie wrote in full.