The disgusting decision by Donald Trump to ban people from Muslim majority countries has rightfully prompted uproar in many aspects of society. Some of this, however, has been met with dissent from Trump supporters. And a high profile spat, is that of Rihanna and Azealia Banks.
Rihanna initially criticised the move, with this statement: "Disgusted! The news is devastating! America is being ruined right before our eyes! What an immoral pig you have to be to implement such BS!!"
Azealia Banks, Trump supporter, then took it on herself to tweet the following:
"You don't get to show up in another man's country, kill his young, his wives, ruin his home and think a peace talk Is going to be the end of it. ITS NOT. There's absolutely no way to end this war but to finish it ourselves. It's TERRIBLE, do I agree with it, NO, do I personally like what's happening, NO! But I can say that as an American who enjoys her safety and overall ability to maintain a certain level of ignorance… I am 100% shook about open borders and would be reallllllllllllly scared for my self and my family if any parts of that war began to become real on this soil."
She added: "As far as Rihanna (who isn't a citizen, and can't vote) and all the rest of the celebrities who are using their influence to stir the public, you lot really REALLY need to shut up and sit down."
Rihanna, spotting this and the direct criticism to her, responded with these Instagram posts:
This continued to spiral and then - at some point - Rihanna allegedly tweeted a phone number that was Banks's. So Banks shot right back with Rihanna's.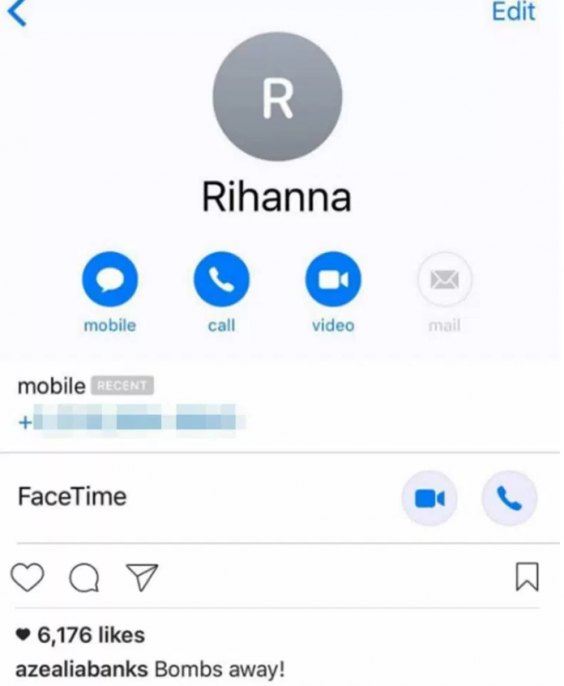 Both numbers have since been disconnected and deleted. And so have the posts.