Bestival 2013 full review - round-up

When people talk about Bestival, they don't mention too many literal things, but rather refer to an essence. As a freshman attendee, you can look far and wide but you'll struggle to capture this indefinable spirit, until it arrests you. It wasn't the "hello" greeting from Lionel Richie's head which got my attention, but rather an incident.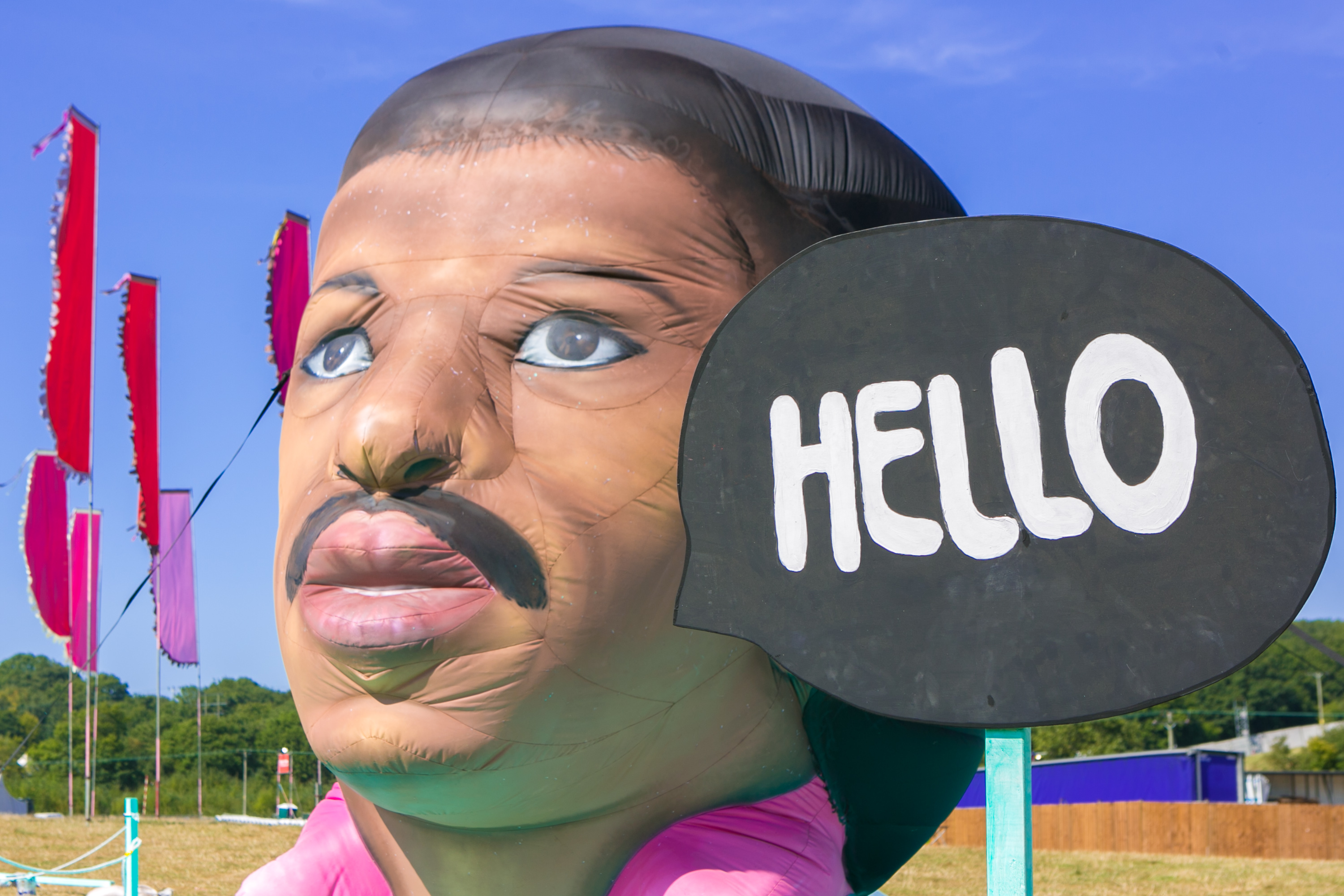 On a Thursday that had seen me scale the woodland trail, get giddy in a tree trunk, swoon to the dulcet harmony of Dog Is Dead, and entranced by MIA's psychiatric bolly-beats, I was left on deck of the HMS Bestival, and little did I know that we were about to be hit by storm. After spinning in circles at the REPLAY tent, I slipped a hand into my pocket after feeling a vibration; it was empty. I patted myself down repeatedly, periodically, and deciphered that my phone was not there.

A thousand reasons for frustration and fear whizzed around my consciousness, and my voyage had crashed to a halt before I could smell the sea breeze. Another one of my most expensive possessions swallowed by a humungous festival: typical.
After an hour or so of frustrated wallowing in the dark, a friend rushed over, holding his phone bright above his head, like a beacon of hope. "Take a look at this!"
And here's what I saw: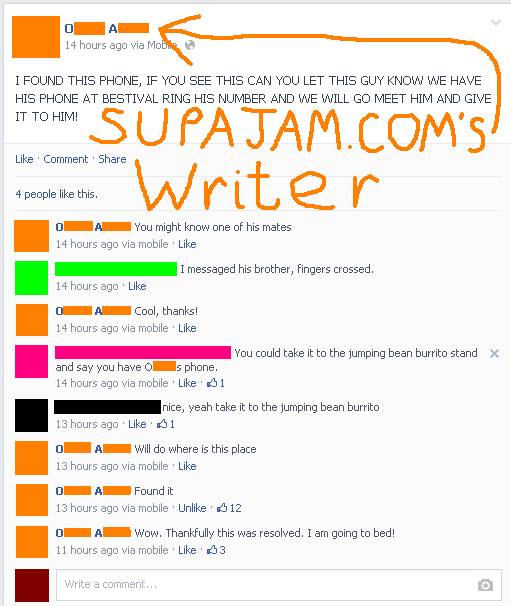 Sat now with my phone, I'm still as shocked, even though the festival regulars assured me that this kind of thing 'happens all the time' on the Isle – how quaint? I can think of no better way to epitomise the spirit of Bestival.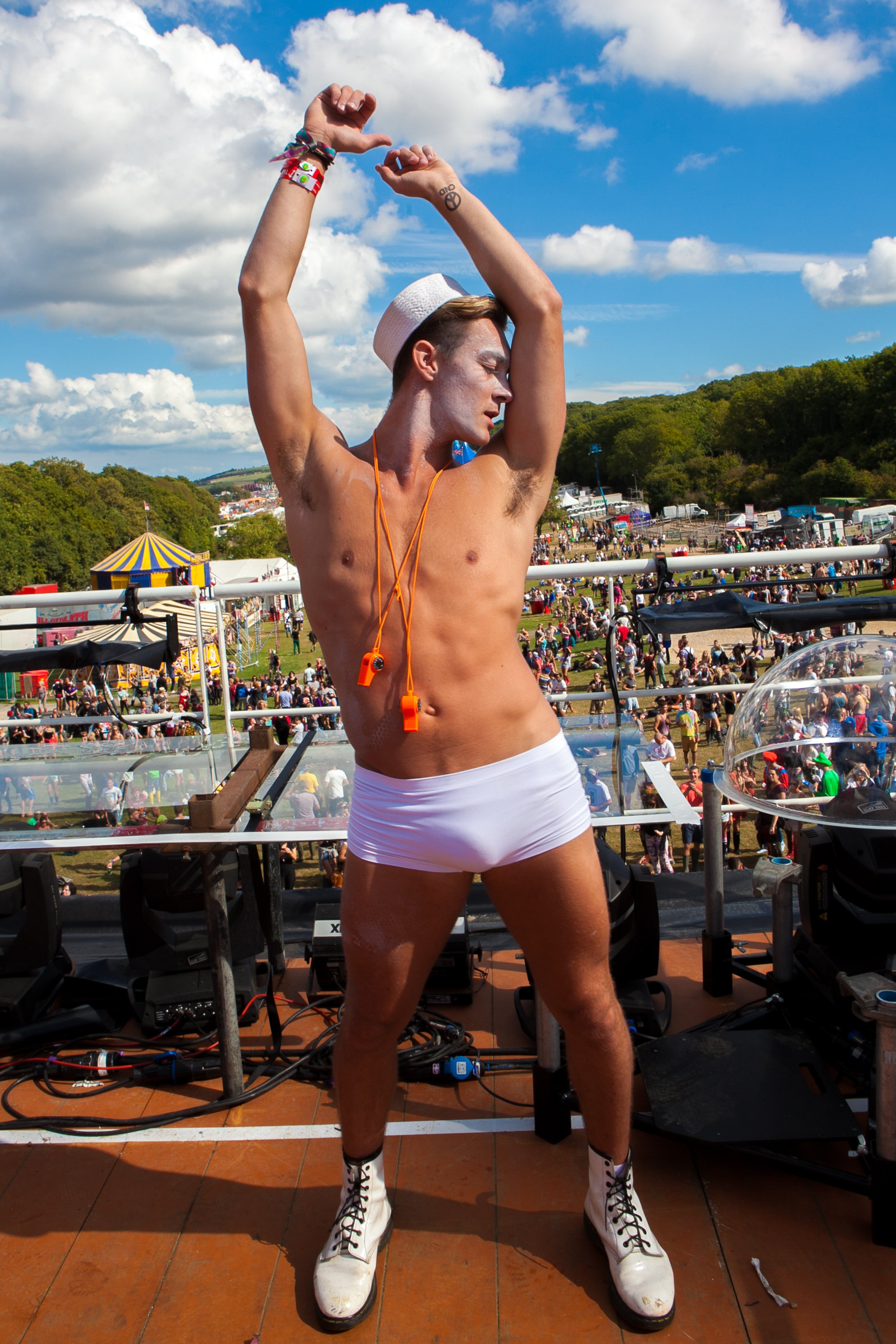 The beginning to Friday felt surreal. Glittered, fluorescent faces that hadn't seen a night's sleep were dancing systematically to a Richard Simmons-type exercise troupe on the main stage – "In the Navy!" blares from across the meadow. Another trip to Jumping Bean Burrito took the edge off of my nautical nausea, and I was ready to embark again.

There's no doubt that this year's line-up was dominated by electronic acts. Artists like Disclosure and Rudimental attracted large contingents of younger fans, whilst the bill also appealed to the catacombs of fans who remember big beat and all things underground, spending the majority of their time in Bollywood or even the corporate jackpot Wagamama stage in the AM, chomping with the likes of Eats Everything. You'd have thought that alternative bands - especially those from overseas who haven't been around for the British dance boom - may have felt a little misplaced at Bestival 2013. Yet, when I was shoulder to shoulder with a crowd of Brits screaming 'The Rat' back at The Walkmen, I'm bereft of doubt.

Later closing the REPLAY stage in the early hours of Monday morning, Parquet Courts depict just how relevant and pertinent a modern alternative band can still be.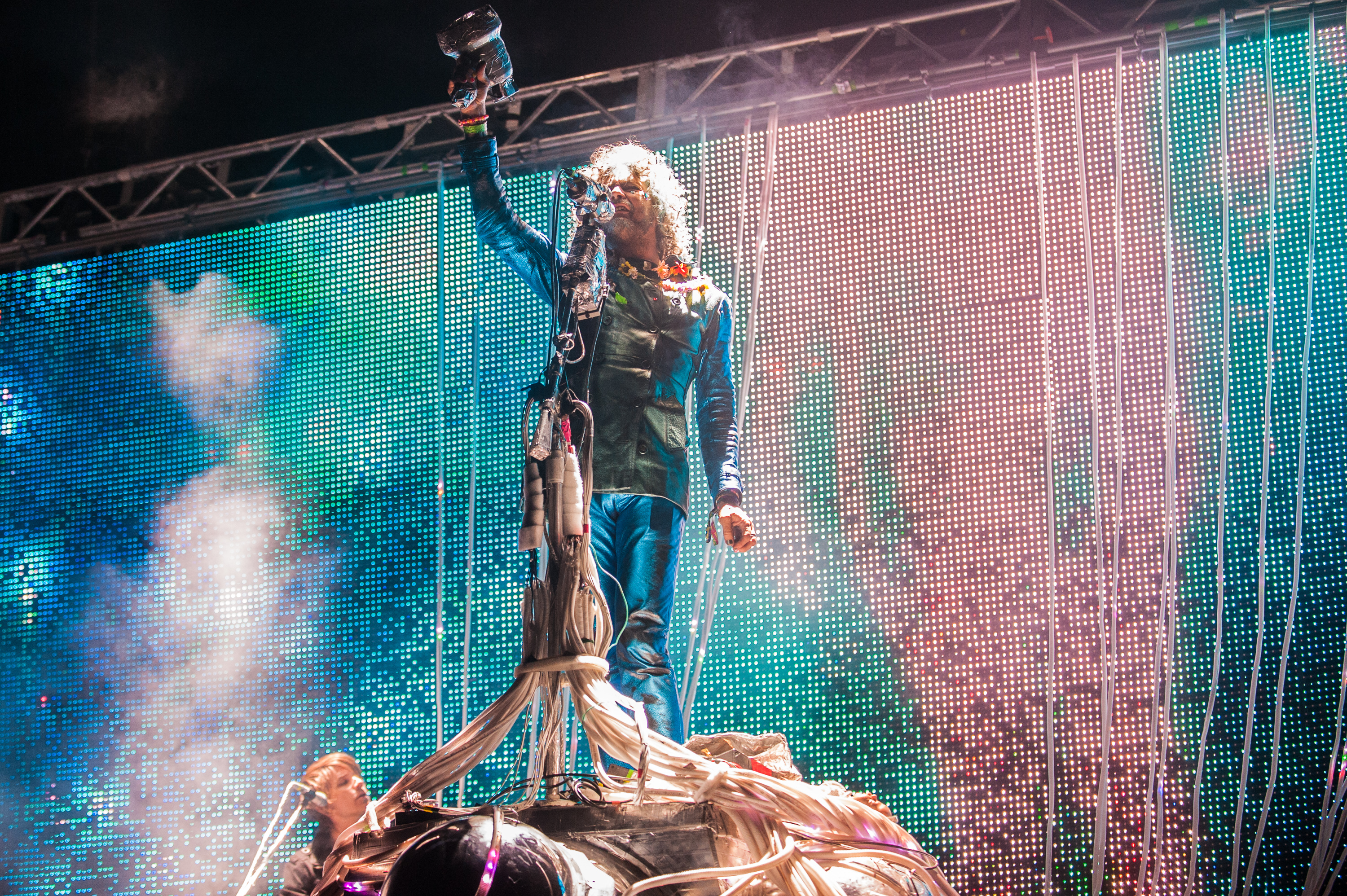 One group who seemed to grasp and enthral every mate of the HMS Bestival were The Flaming Lips. From when Wayne Coyne stood atop of his silver plinth and cradled that synthetic baby, each gradiation was studied by a hypnotised crowd. The imagery was vaginal, and its fluorescent, winding colours screamed limerence. The band are a spectacle, but their consistent sincerity, intelligence and melodrama make them much more than that. Each offering from their traumatic and most recent record, 'The Terror' seemed to be an emotional challenge for the group, and it wasn't until 'The W.A.N.D.' that they were able to breathe. "This is kind of a sad song and we don't want you to be sad on such a beautiful beginning to such a beautiful festival" 'Race For The Prize' was exquisite.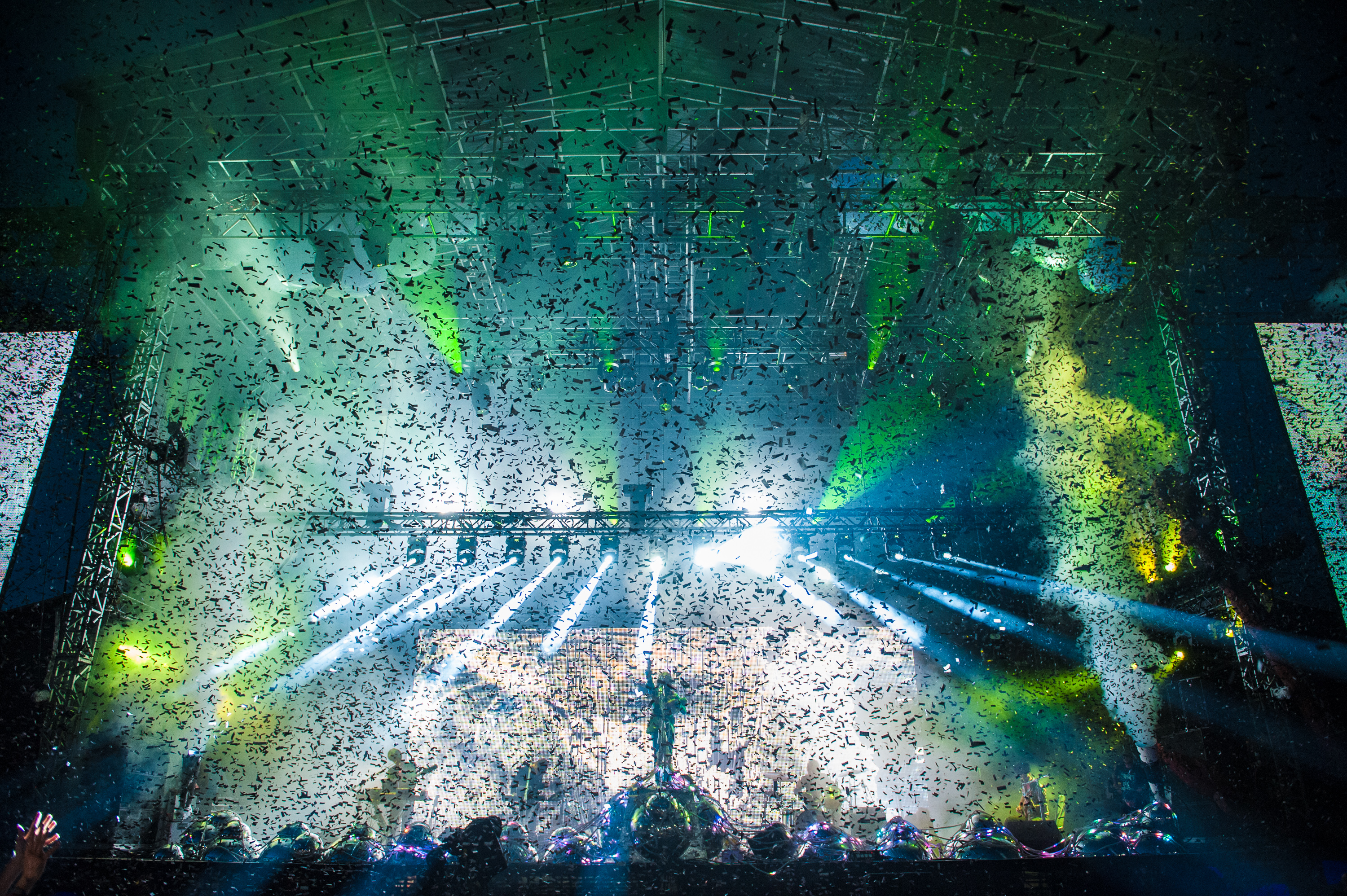 When the three headliners for Bestival's Birthday Bash were announced, they were all met with a similar semi-confusion from the festival proletariat. Though the trio are big names and wholesome characters, they're not at the height of their careers. So, though they weren't dejected, eyebrows were raised. Minutes into Friday night's spoils of Fatboy Slim, I was trying to decipher why Norman Cook shouldn't be on that stage, but the raw energy and carnival decadence of the showcase overpowered me. This is a festival built rather precariously on a foundation of ambience and exploration, but as enjoyment is the main concern, Snoop, Slim and Elton fit. Snoop – not Lion – Dogg, was a whole lot of fun. 'Drop it like it's Hot' was almost comical when squawked out by thousands of white-middle-class music fans through a weed cloud sheath.
Snoop did ask us "if we were smoking weed?" between every song, I've put him in contact with Frank.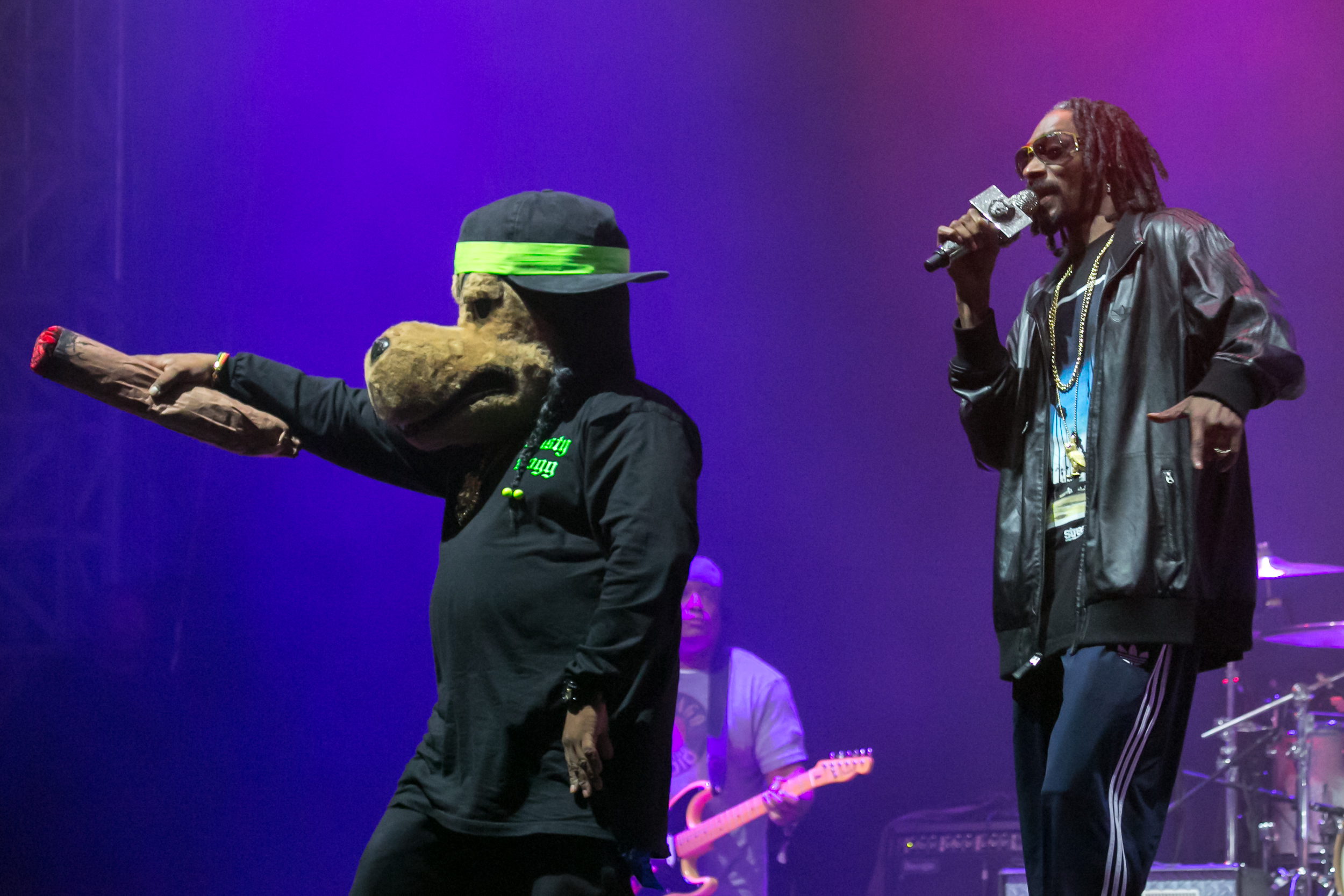 After the harnessing power of The Roots, and their superb ability to wash away the most potent hangover with their range of covers, we enjoyed a stint of the parade. Bastille tripled their credibility with Team Zissou outfits, and it was time to adventure through the Ambient Forest in the search for red squirrels. It's a trend for festivals to craft and conjure the most peculiar and striking environments for artists to dwell and people to party, Bestival takes it to an idiosyncratic level. Besides the swirling motorbikes and 'Wall of Death' – the Port had HMS Bestival. Breaths of fire, suspended cranes, obscenity; Annie Mac was a Festival Highlight.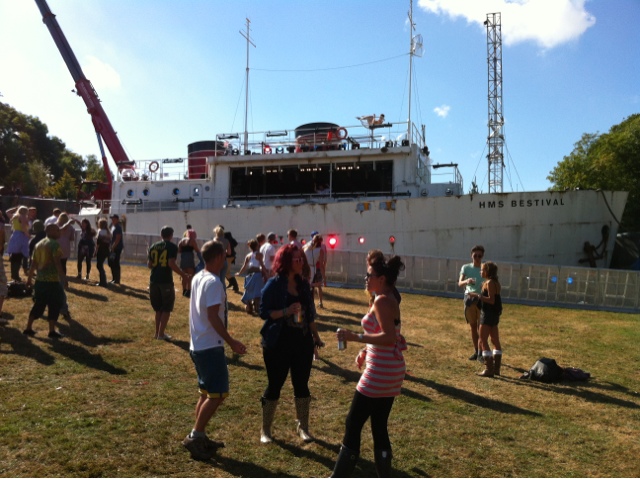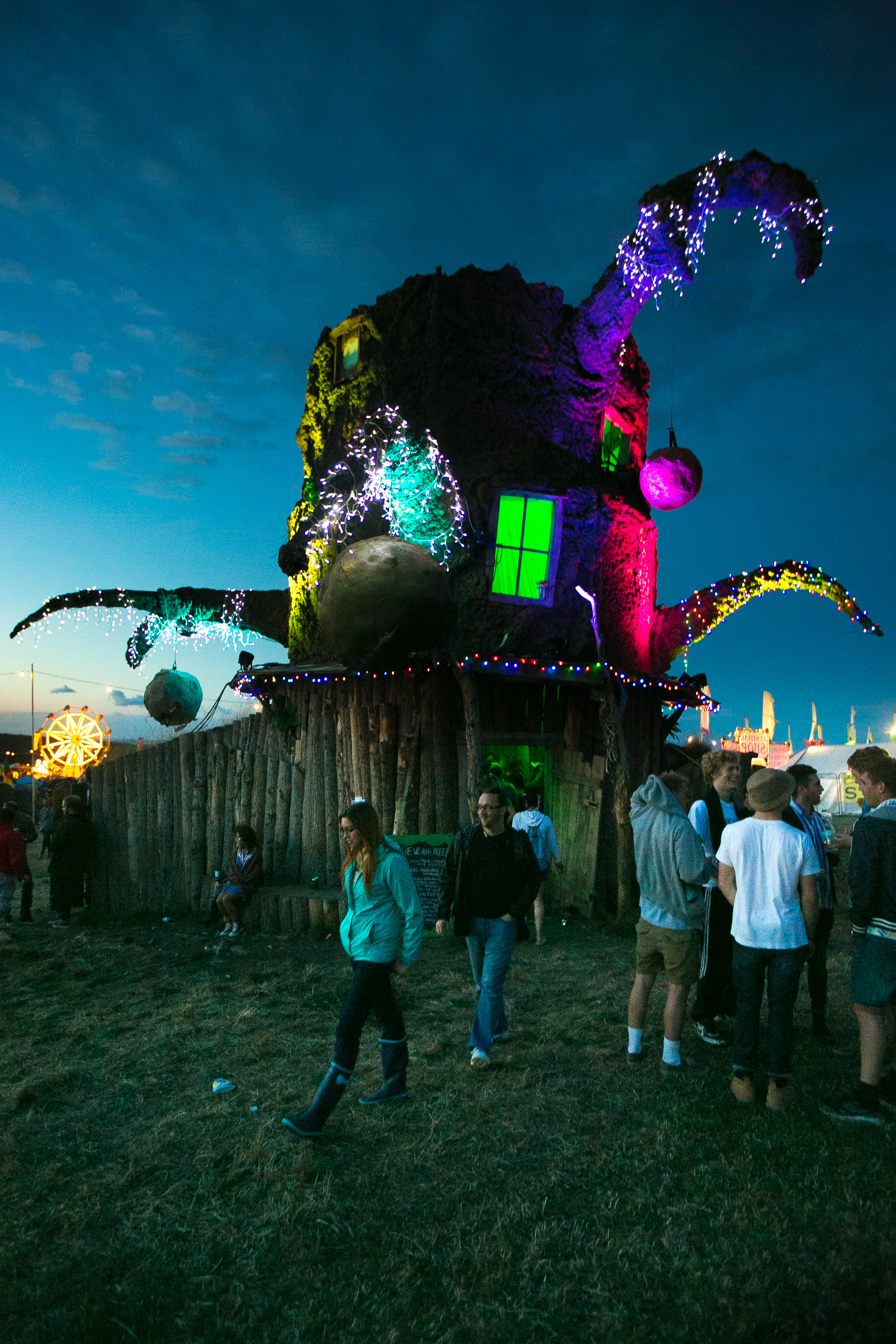 Within twelve hours of my brain being invaded by The Knife and their Shaking The Habitual show, I found that an antagonist, Nile Rodgers and Chic, did a similar thing. With the Swedish avant-garde duo, I found myself uncomfortable, frightened and challenged, whilst Nile sent my hips into rapture. The Knife had neglected their familiar material and opted for something unusual, but he flew through hit after hit; 'Like A Version', 'Let's Dance', 'Le Freak'; and ensured the crowd were aware that he'd written each one of them.
For a brief moment, Bestival felt like the kind of 'Total Music' festival that the majority would shirk.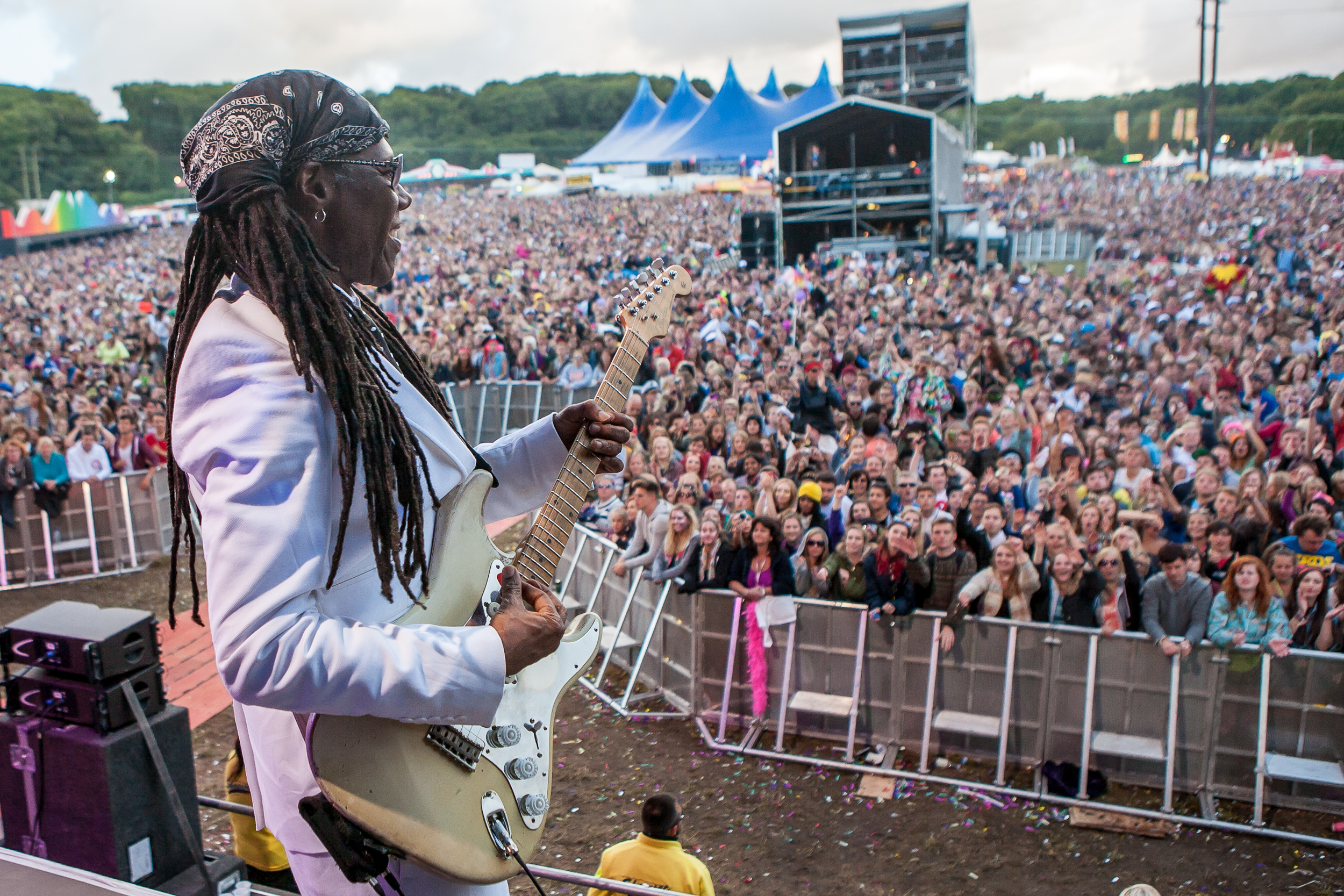 To serenade the beginning of the end, Elton John took to the stage for his first UK festival appearance since 1969. With the attention of a full house (field, island etc.), he started to wave his hanky in the air. 'Rocket Man', 'Candle in the Wind' and 'Benny & The Jets' but 'Saturday (It's Alright For Fighting)' sets Bestival ablaze. Hundreds of spectators climb onto the rooftops of the bars and dance triumphantly, whilst arms are strewn into the air and Davey Johnstone screeches, oozing class. As the rain starts to pour and Bestival's fires dim, 'Your Song' serenades fifty-thousand, red-eyed reluctant goodbyes.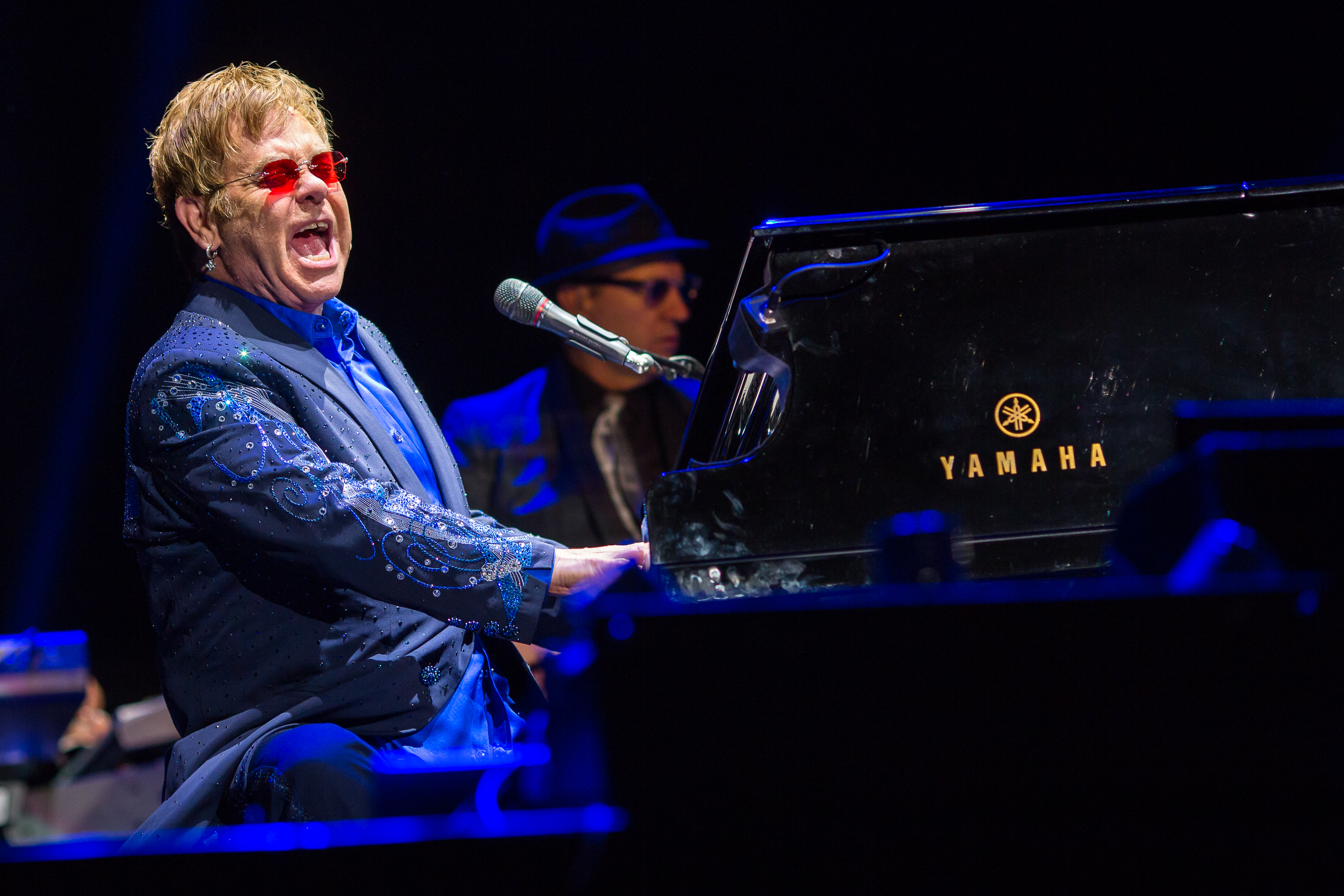 After the landmark of Bestival's tenth birthday, we can appreciate the obscene rate in which it has grown is. It's no wonder really: there haven't been too many compromises from Rob De Bank, it is however, suffering from growing pains. I've lost count of how many seasoned attendees citing how the event has become less nuanced and communal in the last two years, and they're concerned. A frustration I had was trying uncover all the distinctions of the humungous festival site in the whole three days and that, as the bill is just so extensive, the acts further down end up playing to a handful of people.
However this is a distinctive festival, which strives year-by-year to make it as unique an experience as is commericially possibly can and, success is something that they'll have find a way to deal with, as it will continue to flood Bestival.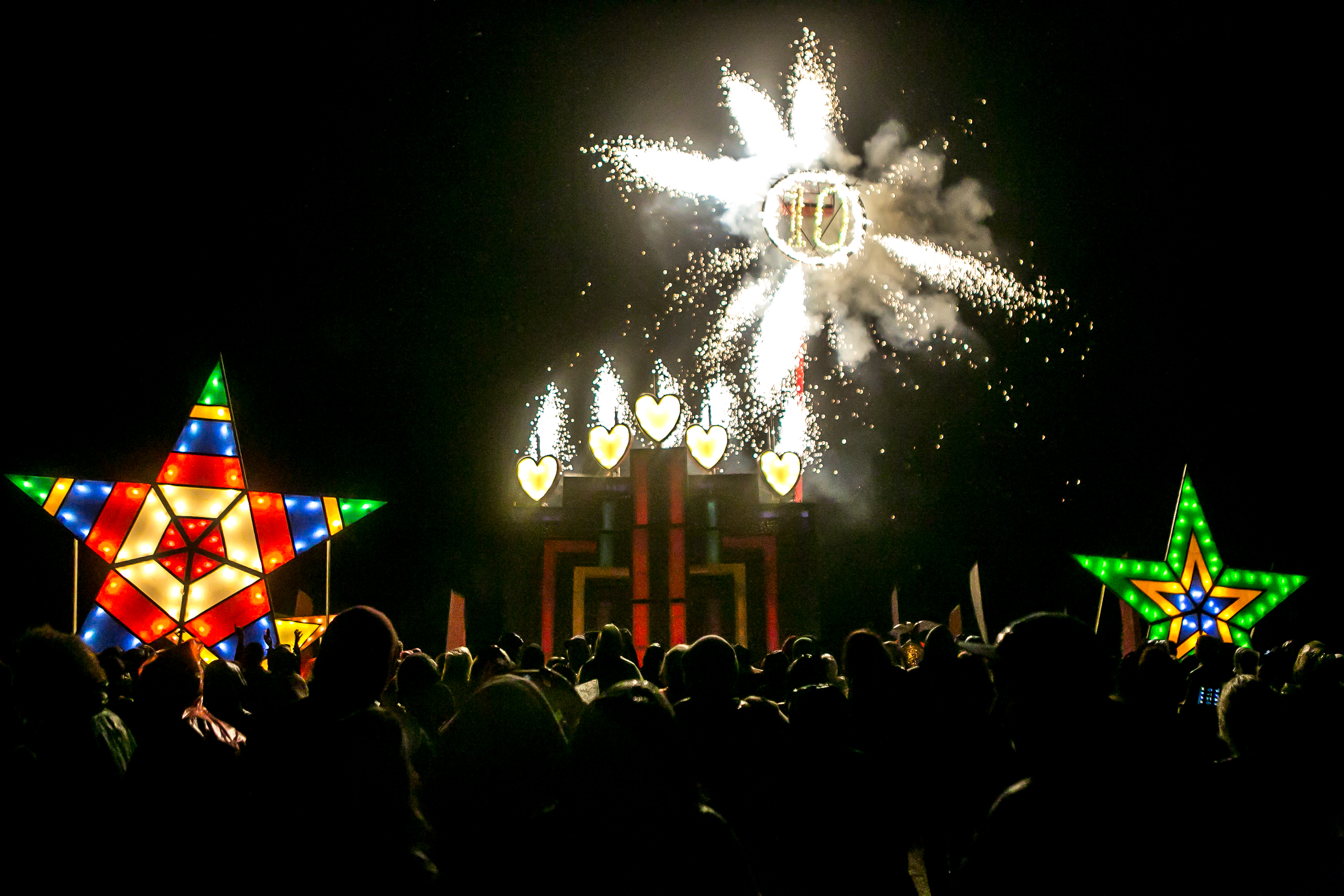 Our Bestival 2013 Interviews:

Fatboy Slim
The Strypes
JAWS

Our Bestival 2013 Reviews:

Wu Tang Clan
Drenge
Fatboy Slim
Johnny Marr
Franz Ferdinand
The Knife
Dexys
Elton John
Amazing photos courtesy of Carolina Faruolo, Victor F
rankowski, Dan Dennison and Ian Taylor - thank you so much.