Wendy O'Mahoney has words with Molotov Jukebox at Camp Bestival, it's explosive (sorry).
Ah - Molotov Jukebox - a jumping 6-piece from London who play what their many fans call 'Gypstep'. It's a hypnotic mix of all kinds of genres, such as swing/soul/gypsy/disco/calypso and dubstep. The mix also includes sexy rhythms, cool-as vocals and poppy hooks, all backed up by violins, trumpets, compelling rhythms and Natalia's exotic accordion.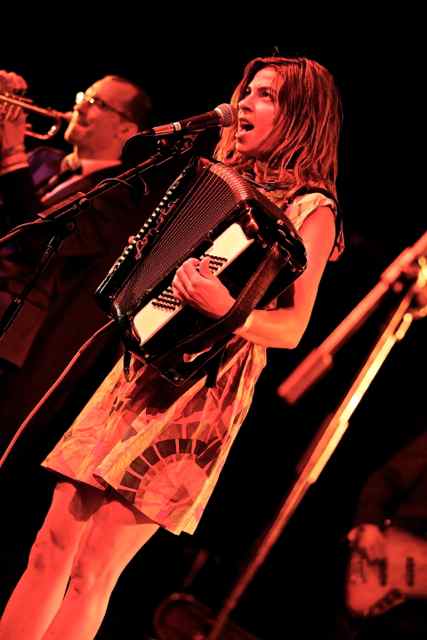 We were lucky enough to find Molotov Jukebox waiting behind the Camp Bestival Big Top in the glow of the setting sun, getting ready for their wicked set. The multi-talented Natalia Tena fronts the band and was wearing a fab little multi-coloured shift dress. Her curriculum vitae includes singer, musician, actor (Harry Potter, Game of Thrones) and our new girl crush. The boys were decked out in matching bright blue suits and were, frankly, happily irrepressible. We chucked a whole load of questions at them...and they generally answered en masse.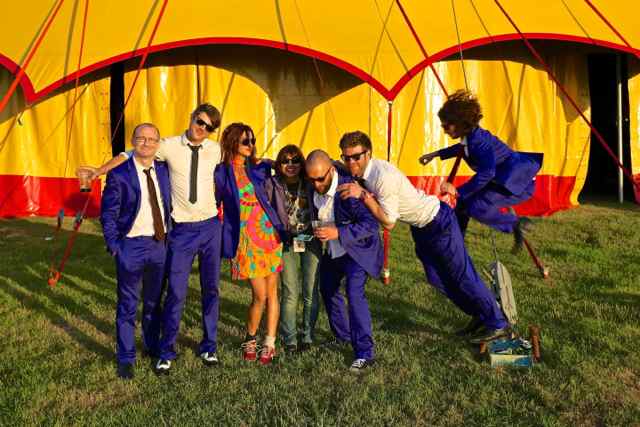 What's your favourite festival experience?
Glastonbury - when Natalia wore a lobster on her head.
Do UK crowds differ from the ones you meet abroad?
Yeah, this is home and the UK crowds are more up for it!
Who do you rate among other artists?
Gentle Mystics, Nimmo & The Gauntletts, Faela, Always Drinking Marching Band [We must have them at a party sometime], Double Drop.
So what tips can you give to aspiring artists?
Never give up! And keep practicing so you keep getting better.
What have you guys been listening to on your way to Camp Bestival?
(all together..) Word Up! We've been playing an 80's mix.
Aha! So...Spandau Ballet or Duran Duran?
Natalia - eh? The others - you know, 'Gold!' , Natalia - oh yeah! [and they all just start singing it.]
What music did you inherit from your parents?
Elvis, Tom Waits, The Police, Jungle Book, Joaquin Sabina.
So with the sun plunging downwards, we had to take our leave of the fabulously colourful Molotovs who seem to be enjoying life so much. We caught the set later and weren't disappointed - so much energy and surely nobody in the audience could possibly have stood still. See them live if you can - it's quite a party!