Wendy O'Mahoney conducts what has the potential to be a very uncomfortable interview...
Having played at all six Camp Bestivals since its inception, The Cuban Brothers must feel that they virtually co-host the event. They do admit that it's their favourite gig. It was indeed a high-octane, ultra-entertaining set, which the crowd went nuts for. We met 'Miguel Mantovani' in the green room afterwards, lounging in his best festival underpants. Very dashing.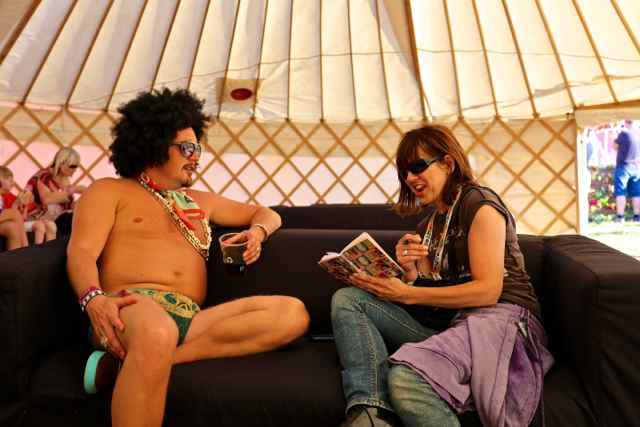 Whilst trying to look him square in the eyes (not easy when he wasn't wearing much more than gold-framed sunnies, bling and a sheen of sweat) we asked Miguel - or Mike Keat, if he's speaking in his native Scottish accent - what the secret of appealing to all ages was. "Los Hermanos Cubanos, we are a leetle bit rude. We dance the theen line. Ees a show por la familia, no?". We-e-e-e-ll.....just about.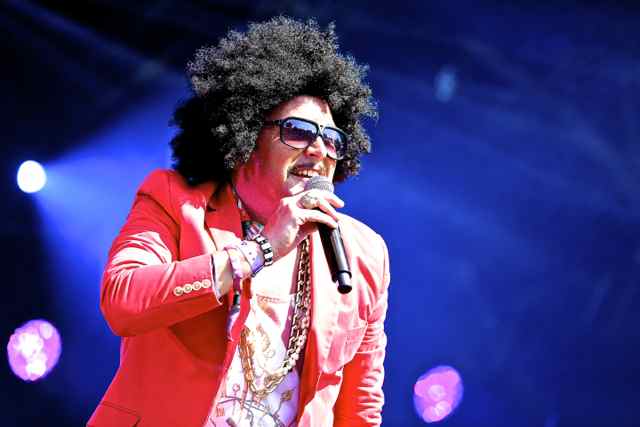 Miguel and his 'hermanos' like to remove as many of their clothes as possible on stage and even the lycra outfits (more on those later) leave little to the imagination. Miguel would actually like to see more on-stage nudity! This brings us to the couple who got married in the inflatable church (yes, really) at Camp Bestival on Saturday, who were invited onstage during the Cubans' set. Miguel tried to get the bride to show "jus' one boobie" for the benefit of the boys... and she nearly did! We asked Miguel - clearly a Very Happy Man - if he had any tips for the newlyweds' future. "Jou must try and go out on a date, eef jou can, to the peectures, for a meal, somesing like thees, maybe once a week". Fine advice. But then, he's been married several times.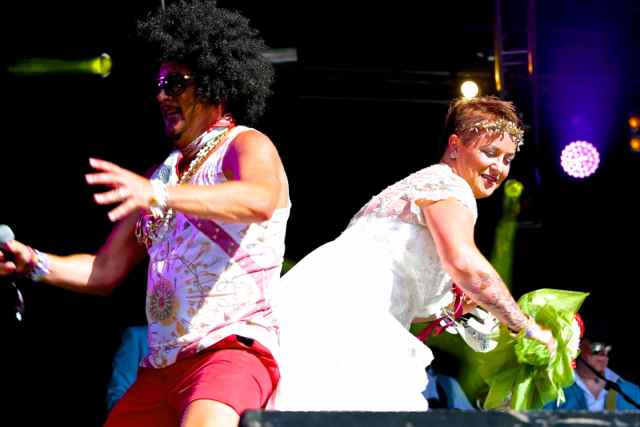 On the subject of Miguel's current faves, he rates Friendly Fires, Alunageorge and "hoo else ees dope - los hermanos Disclosure". It's all about dance for these guys, with Miguel's sidekicks 'Archerio' and 'Kengo San' performing some gob-smacking onstage breakdance moves. You do need to see this. For "bestivals", Miguel also likes a bit of what he calls 'heritage' bands - he lists Kid Creole, Red Hot Chilis, George Clinton (Funkadelic). Miguel reckons that familiarity with an established band is the root of their own popularity and feels blessed by the crazy response and the big love they feel from the Camp Bestival crowd.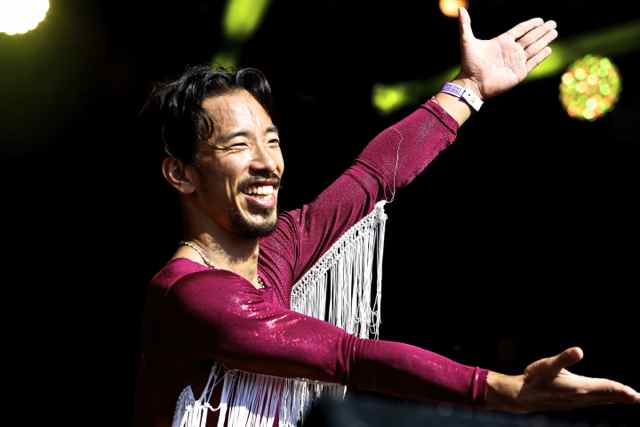 Finally, we asked if they have a message for aspiring musicians on Supajam? "Hello Supajam, friends of Truth. There is no fast-track, really. You have to get many shows in different enbironments under your belt, You must," the accent is slipping, "develop an affinity with your audience and love your musica." Oh, there it is.
So, about those lycra suits? "They are made by Pedro and hees wife Pilar in Cuba. I can geeve you details if you weesh. It ees next-level lycra!".