Songkick have been crunching numbers and have figured out the hardest working bands of 2013, and Local Natives are the winners.
It has been revealed that the biggest acts have travelled 15% more in distance than they did in 2012, which is influenced by the proportion of an artist's income which derives from the live music industry.
Taken from Songkick: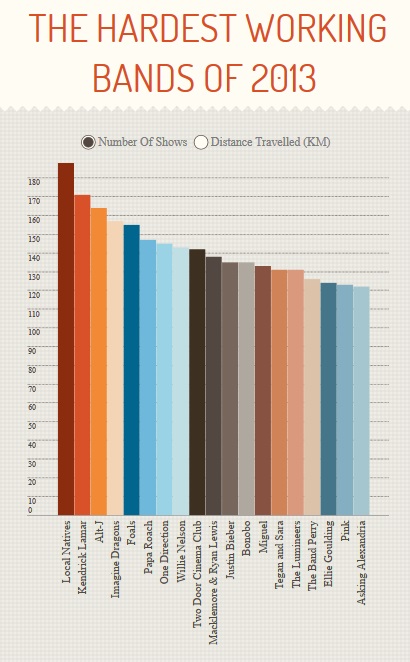 So, what have we learned in 2013?
Eternal glory for Local Natives! The LA five-piece have booked their place in history as our hardest working band of 2013, with an astonishing 188 shows and 192486 km covered.
It's a record breaking year. We've seen tour schedules passing through more countries than ever before. Foals played shows on every continent in 2013 (bar Antarctica, sorry guys) – and the rest of the artists on the list weren't far behind.
Willie Nelson doesn't stop. An omnipresent force in our 2011, 2012 and 2013 lists, the country legend has played a cumulative 442 shows in that time. That's a gig every 2.4 days, for three years.
Two Door Cinema Club are 21st century nomads. Like Willie, the guys from Belfast have also held their seat in the top 20 for three years on the trot, travelling a cumulative 557,361 km. That's pretty much to the moon and back.
Pop isn't dead. For the first time in hardest-working-bands history, boy bands have made the cut. Honourable nods go out to 1D & Justin Bieber!