When buskers go bad!
Below is the video of a heated exchange which took place in Bath recently. One busker is interrupted mid-set by another who is angered about the noise impacting on his performance. It's about a minute in...
Do not watch if you hate naughty words.
The angered gentleman in the video has been identified as Bath busker Gary Millhouse, a classical guitar player. He is a full time busker who has played in Bath for a few years and claims in the Bath Chronicle that he had asked the busker to move on four previous occassions as he was drowning out the other performers. He claims that the singer was threatening the livlihood of other local buskers, who work hard with the council to only play where they are allowed to. Other buskers have claimed it is out of character for Gary, and he has since apologised for what he said "in the heat of the moment."
To be honest, we can understand his initial problem. But is there really any excuse to threaten and intimidate someone with that level of aggression? At the moment, the general consensus of the Internet mob is a resounding "NO GARY, NO THERE ISN'T." Occasionally using more colourful language. This is compounded by the video's title, which claims that the singer is disabled. However, a few people in the comments section have come forward to refute that claim as they actually know him.
As of 11:17am this morning, Mr Millhouse's Facebook fan page had a grand total of 1 like.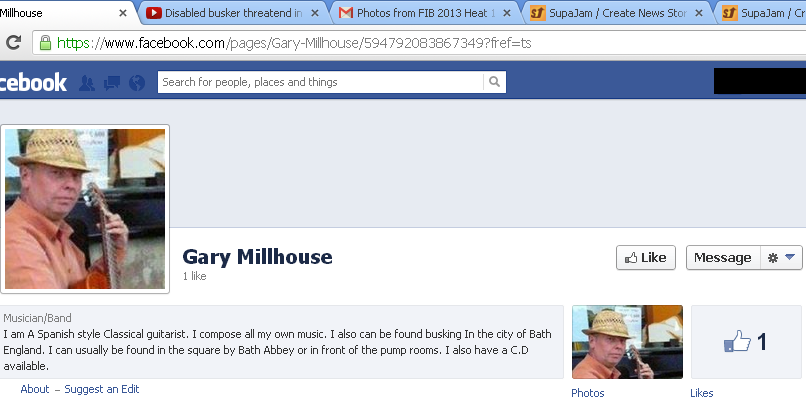 I wonder if he's sold any of those CDs off the back of this...