*This was selected as one of Supajam's best bits of 2013, either by being the most read, specially chosen by our staff, or nominated by our readers. Click here to see more of our highlights from 2013.*
Check out this ad for a drummer/vocalist for an internationally renowned rock band: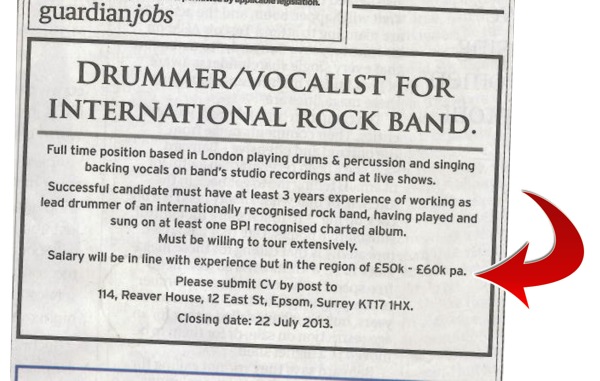 For the second week running, this AD has appeared in the Guardian Jobs - this alone would cost £1,650 to run. They've got be a huge band, as they're asking for so much: the ideal candidate "must have at least 3 years experience of working as lead drummer of an internationally recognised rock band, having played and sung on at least one BPI recognised charted album".

The salary "will be in line with experience, but in the regions of £50k - £60k per year [$77k - $92k]" – that's almost three times the average UK wage.

Which bands can provide such salaries today? Take your guess. I'm saying Eagle Eye Cherry.