This year's music festival at Glastonbury is still fresh in everyone's mind with the performance from Adele in particular grabbing everyone's attention. However, people seem to forget what happens at Worthy Farm (festival site) on following Monday morning. Every year, the festival staff conducts what they describe with relish as an "operation" to clean of the mess left behind by the festival goers. This year, the clean up operation has been going on for 2 weeks so far, which has led to some such as The Guardian to question if this is the worst Glastonbury clean up ever.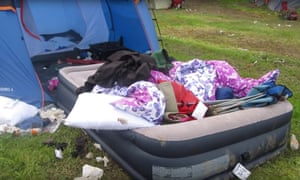 The rubbish left behind can include, abandoned tents, gas bottles, clothing, camping chairs, trollies, airbeds, phones and wellies. When you have 135,000 people living in a field for five days, rubbish left behind is expected but this year has shown very shocking figures. According to the Glastonbury Free Press, this year's attendees left 500,000 sacks of rubbish, 57 tonnes of reusable items and 1,022 tonnes of recycling on the 1,000-acre site. In total, rubbish disposal costs £780,000, which the festival points out it would rather donate to charity.
Those who are involved with the clean up such as Lucy Smith, Glastonbury's green initiatives coordinator feel disgusted as everyone who attended this year had to sign up to the "Love the Farm, Leave no Trace" pledge before paying off their ticket balance, adding personal responsibility to people's rubbish. This could suggest that many ignored the pledge they signed. Lucy Smith continued to say that the weather is what to blame for the mess this year. "The difference between what people leave in a wet year and a dry year is astonishing," says Smith. "That's why it was so bad".
Written by Thom Lafferty.
Read our Glastonbury Festival 2016 highlights here.