SupaJam Sessions
Track list
Jacob Banks - Kids On The Corner

Adam Barnes - She Will Stay Beneath The Moon
Jay Brown - Video
Luka Gray - I Don't Want To Be Free
Early Ghost - Cadaques
Beck Lanehart - Brooklyn
Lucy Kitt - Eagle
Morrissey & Marshall - Martha
Flight Brigade - Seven Seas
Dan Korn & The Choppy Waters - Dustbowl
Ilona - All She'll Ever Need
Danni Nicholls - Warm Your Hands
Holy Moly & The Crackers - Bluebell Wood
Small Town Jones - Freight Ships
Kristyna Miles - I'm Not Going Back
Suburbians - Red Dress
Tarq Bowen - The Madness Found You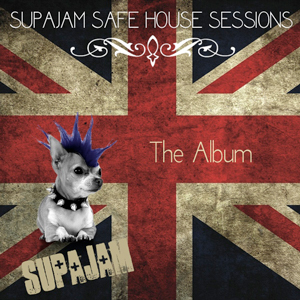 About SupaJam
SupaJam is a new type of music company that puts the artists and fans first and is widely acknowledged as the fastest growing music network in Europe.
SupaJam provides up to minute music news and blogs as well as life changing opportunities for the very best emerging acts to play at leading music festivals and events across Europe. Our artists have played at festivals such as Benacassim and Hop Farm and events such as the MTV European Music Awards. This gives them a unique opportunity to increase their fans base, heighten their profiles, and continue on their journey to become next generation headliners.
Session Dates
July 27th - Morrisey & Marshall
July 28th - Jay Brown
July 29th - Flight Brigade
July 30th - Dan Korn
July 31st - Danni Nicholls
August 1st - Jacob Banks
August 2nd - Holy Moly & The Crackers
August 3rd -
Tarq Bowen
August 4th - Jim Jones
August 5th - Lucy Kitt
August 6th - Adam Barnes
August 7th - Ilona
August 8th - Luka Gray
August 9th - Early Ghost
August 10th - Beck Lanehart
August 11th - Suburbians
August 12th - Kristyna Miles
The SupaJam Oakley Safe House Sessions gives the UK's best new acoustic talent the chance to play live to the best competing athletes from Team USA live in the unique setting of the Oakley Safe House.
Download and share the free album below featuring tracks from all the artists taking part. Follow us on
Twitter
and Like Us on
Facebook
to keep up to date with how SupaJam are helping the best new artistes and their fans.